In this section
You are here:
Explore /
Volunteering
Volunteers can bring valuable skills and experiences to the work of Selly Manor, and help staff to deliver our services. We love working with enthusiastic people who are passionate about heritage and value the role that Selly Manor Museum plays in the community. 
We would like to recruit volunteers to help us deliver our events and to support museum staff at weekends in the summer. If you are interested, you can find all about Volunteering at Selly Manor Museum here, including a description of what is involved and an application form.
So why should you volunteer at Selly Manor? Well, we think there are lots of reasons including making new friends, developing new skills, experiencing work in the heritage and museum sector, giving something back to the community, spending time in a beautiful and inspirational place and of course having lots fun too. Whatever your reasons, our team are there to help you get the best out of the opportunities available.
If you would like to join the team then you can contact us by completing the enquiry form at the base of this page, or by calling us on 0121 472 0199. We try to tailor volunteering roles to make the most of your skills whilst pursuing your own interests. Selly Manor Museum is a special place and it is the people who visit, volunteer and work here that make it even better.
---
Volunteering in Action
---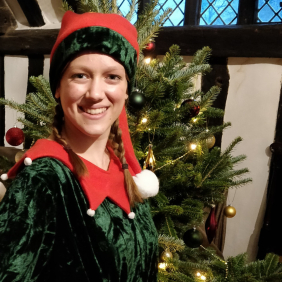 Emily
University of Birmingham Student
During my time at Selly Manor Museum I volunteered as an Education Assistant, providing school tours around the museum for Key Stage 1 and 2 pupils. Children enjoyed tours about the Tudors, the Great Fire of London and Shakespeare, and it was my pleasure to help them learn about history in a fun and interactive way.
My role was incredibly enjoyable, and the support I received from the Selly Manor staff was wonderful. My confidence grew, alongside my ability to communicate with children and teach effectively.
Not only did I gain skills which will help me with future employment, but I made some great friends and met a lot of new and interesting people. It was a very exciting opportunity for me, and I am very grateful for the experience I gained and the memories I made. I even had the chance to be one of Santa's elves at the museum's grotto!
Emily is far too modest to mention it, but she was awarded Placement Student of the Year by the university for the work she did at Selly Manor Museum!
---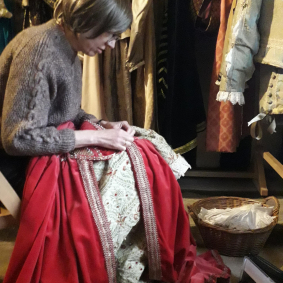 Gill
Bournville Resident
One of our regular team members Gill is a brilliant seamstress. Gill regularly repairs and adjusts all the costumes at the manor which bring so much enjoyment to those that try them on. You can imagine how much wear and tear they get from 20,000 visitors a year!
Gill also loves working with children when they come along to our popular craft activity sessions in the school holidays, whether it's making a paper crown or fashioning wizard wands. At our 'Unicorn Party' event last year Gill was relentless in organising and delivering craft activities for nearly 500 people – all in a single day. With hardly any time to stop, Gill was able to make sure everything ran smoothly from welcoming visitors, explaining what they could do and getting everything tidy again for the next wave of people. We don't know what we'd do without her and in 2019 Gill was a finalist at the West Midlands Museum Volunteer Awards.
---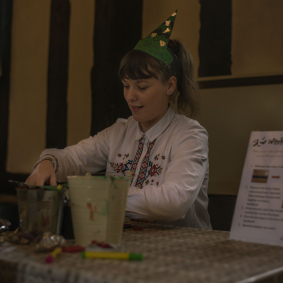 Jen
University of Birmingham Student
From September to December, I completed a ten week placement at Selly Manor Museum at part of my studies. Although my official role was Museum Assistant, I was involved in a variety of tasks and projects throughout, and no day on placement was the same!
Some of my tasks included caring for the museum collection, environmental monitoring, attending meetings, greeting guests and assisting with school groups. I thoroughly enjoyed this variety, as I was able to experience almost every aspect of how Selly Manor operates. Two elements of my placement that I particularly enjoyed were helping with events and writing my own blog series. As Selly Manor runs events throughout the year, I was lucky enough to be involved in both Halloween and Christmas. This meant helping with decoration and set up, and assisting the actual delivery of the events. 
I also had the opportunity to design and organise my own event aimed at students. By collaborating with other staff members, we were able to establish a concept that would be brought to fruition in the New Year. This was a great experience and I'm looking forward to seeing the results of our work!
Alongside the events, I wrote a blog series about depictions of Selly Manor through time. This was great, as I had the chance to select items I liked from the collection, research them, write about them and publish my work online. This was extremely satisfying, and I am very proud of the work I produced. Overall my experience at Selly Manor Museum was invaluable. I had a great time and learnt so much about museums and how they operate.