In this section
You are here:
Explore /
Collection & archives
George Cadbury founded Selly Manor Museum, but it's his son Laurence who is responsible for much of our fantastic collection. The Laurence Cadbury Collection includes some elaborate, intriguing and beautiful examples of furniture and domestic objects. 
Assembled at the beginning of the 20th century by Laurence Cadbury, the collection brings the museum to life. Laurence Cadbury began collecting objects whilst studying at Cambridge in about 1908 and continued well into the mid 1930s. Much of his collection was displayed at his house, The Davids, but Selly Manor was a perfect home for the 16th and 17th century furniture and domestic objects he loved so much. From sturdy oak chests and intricate carvings to a beautiful tapestry and unusual utensils, there is so much to appreciate.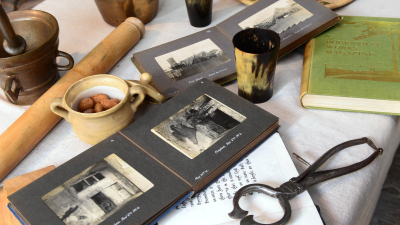 Highlights of the collection
Edmund Prys' Bed
A tester bed which once belonged to Archdeacon Edmund Prys, dated 1592. Now displayed with replica bedding and bed hangings to show what it would have looked and felt like over 400 years ago.
The Smoke Jack
Introduced during the 18th century, smoke jacks were inserted into a chimney and used the upward draught of hot air from the fire to turn the mechanism and then the spit for roasting meat.
The Crooke Hall Table
This huge 18 foot long table from the 1630s was originally in a Lancashire house belonging to the Catterall family, and features historic carvings.
The Grotesque Chest
Dating from the late 16th century this chest is carved with ornate scenes of strange creatures and mythical beasts.
The Mantrap
This grim piece of equipment measures over 6 feet long and has 2 large jaws with spiked teeth. Set on the ground with its jaws open, it was used to deter and catch poachers.
The Hatchments
Painted in the mid 19th century, the hatchments show the coats of arms of wealthy individuals and were used during funerals, then hung in the local church as a lasting memorial.
The Laurence Cadbury collection is mostly made up of furniture, but also has all sorts of objects from cooking utensils and armour to paintings and archives. Most of the collection is on permanent display, so why not visit us to explore more?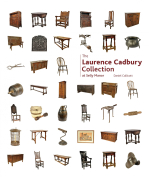 We have also produced a comprehensive and richly illustrated book on the collection which can be purchased from the museum shop for £10. All the proceeds from the sale of the book go to the upkeep of the collection.