In this section
You are here:
Explore /
Conservation
Caring for Selly Manor Museum's unique collection is an ongoing and important job. Staff and Volunteers carry out regular cleaning of the museum buildings and collection, and work to create the best environment so the collection will survive for as long as possible. If our objects need specialist attention, we use professional conservators to carry out any repairs.
Our conservation work is extremely varied. Here are just a few examples of what we do:
Pest Management
From rodents to beetles, there are lots of pests that can cause damage to our historic buildings and collections. We monitor for evidence of them and manage the environment to prevent them. If we spot signs of a problem we can take action to treat the problem.
Cleaning
There is no better to way to check the collection than to regularly clean our beautiful objects. We don't use any polish or chemicals but just a lint-free duster and a hoover to make everything look just right. Our housekeeping rota means we can keep on top of the dirt.
Environmental Controls
We try and create as stable an environment as possible. Most of our collection is made of organic materials, like wood, which expand if there is lots of moisture present. If this changes frequently then damage can occur. A stable environment is achieved by ensuring the temperature and relative humidity don't change too much - no easy feat in such old buildings. We use digital recorders that measure the temperature and relative humidity and then download the results so we can analyse them, and make changes if we need to.
Light Control
We are very careful to restrict the amount of damaging UV light that can affect the collection. When we are closed we use black out blinds to emit all light from the museum rooms. We also have UV filters on every single pane of glass in the manor which stop the UV from causing the objects to deteriorate.
Storage
Whilst the majority of Selly Manor Museum's collection is on permanent display we also hold a significant number of objects in store. The storage has been designed so that it meets expected museum standards and helps to protect the objects as well as making them easy to access by staff and researchers.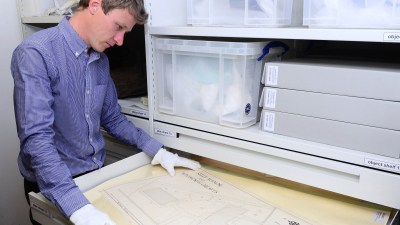 Expert Conservators
With very old objects we occasionally need the assistance of an expert conservator. In recent years we have had a number of objects undergo work to improve how they look, stabilise their condition and ensure they can be enjoyed by our visitors for many years to come.
Textile conservator Michelle Harper was commissioned to repair the upholstered seat of a 17th century armchair to ensure further damage did not occur. In addition to this staff were trained to surface clean the only tapestry at Selly Manor, resulting in a far brighter appearance.

Thanks to funding from the Association of Independent Museums, the Nonsuch Chest which is decorated using marquetry (thin slices of wood glued to the surface) was repaired by a furniture conservator. Areas of the surface that were lifting were reattached and missing areas re-coloured. The funding also allowed for our settle, a 17th century bench with a back, to be reinforced.
The Lantern Clock, made in 1680, underwent significant repairs by clock conservator Roy Harris. The mechanism was put it back into working order. Roy also re-silvered the chapter ring to return the appearance of the clock to its original condition.
 A moose skull in the collection was remounted by expert Luke Williams and underwent significant conservation cleaning.