With its beautiful location and history, Selly Manor Museum is the perfect venue for civil wedding ceremonies and partnerships.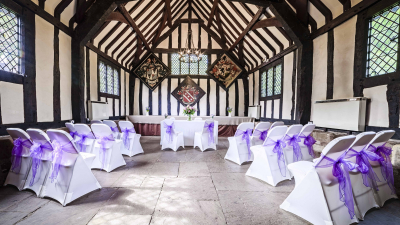 Wedding Update @ 08/09/2020.
We are delighted to announce that weddings can now resume at Selly Manor!
Please note that we must follow the Register Office rules for ceremonies, and the new guidance is listed below.
To ensure social distancing, guests must wear masks indoors. The Bride and Groom will also wear a mask, except for when they are saying their vows.
To ensure social distancing indoors we must reduce the number of guests we can seat. The guest number cannot exceed 20, and it may have to be less if your wedding party has multiple household groups/support bubbles who wish to sit together. We will discuss your options with you.
The Bride cannot be escorted in by anyone, including bridesmaids.
This guidance may change at short notice. If you have any queries, please get in touch with the Birmingham Register Office.
If you have already booked a ceremony with us, we would love it to still go ahead and share in your special day.
Your options are:
1. Change the date to anytime you choose. We will not make an additional charge to amend your booking. This applies whether you have paid in full or only the deposit. This is subject to our availability and the availability of the Birmingham Register Office (BRO) staff.
If you want to do this please email [email protected] and we can supply you with a choice of alternative dates. Once you have decided on a new date, contact the BRO to see if they have a Registrar available. There may be an additional cost to change the date with the BRO, please check directly with them when you make contact. When you have confirmed the date is available, email us immediately as we may have to re-issue you with a new set of forms.
2.Cancel the ceremony. If you choose to cancel your ceremony with us, we will refund you any payments already made LESS the non-refundable deposit. If you have only paid the deposit, you will not receive a refund. We recommend that you check your wedding insurance policy if you decide to cancel to see if you can claim for this. If you choose to cancel, you must email [email protected] and it is your responsibility to also inform the Birmingham Register Office.
Selly Manor Museum is the perfect romantic wedding venue for your civil ceremony. From start to finish the beautiful 15th century timber framed building has everything you need for a dream ceremony. Ceremonies are held in the medieval cruck framed hall, Minworth Greaves, which has ancient oak beams and flagstone floor. The hall is the ideal venue for an intimate and smaller wedding. The hall can seat 40 guests, with the couple sat in front of a 400 year old oak table.
With its connections to the Cadbury family, Selly Manor has character and a rich history and is the perfect setting for a truly memorable day. The manor is in the heart of the historic village of Bournville, which was built by chocolate manufacturers, George and Richard Cadbury.
The museum gardens are a wonderful backdrop setting for your photographs, with its fruit trees, traditional cottage garden borders and wildflowers. Couples can also take photographs on Bournville's beautiful village green, which is just around the corner from Selly Manor.
We have been hosting wedding ceremonies for over 15 years and our experienced museum staff will be on hand throughout your ceremony. We will work closely with you to ensure that nothing is forgotten and that everything runs smoothly on the day. We are also affordable, offering a competitive and well-priced package. The cost of a civil wedding ceremony at Selly Manor Museum is £1000 and you will have use of the site for 3 hours.
To discuss your ceremony, or to arrange to view the venue, please get in touch using the contact form below or calling us on 0121 472 0199.