In this section
You are here:
Schools & education
School Visit Sessions from Selly Manor Museum
We welcome thousands of school children to Selly Manor Museum each year for interactive tours and activities with our talented Education Team. Due to the Covid pandemic we are unable to provide our normal service but rest assured this will be up and running as soon as we are able to.
In the meantime we are offering a number of options for schools and their pupils to engage with our knowledgeable team and resources. So whether your group is studying The Tudors, the Great Fire of London or George Cadbury's garden village of Bournville, we have something to suit you. Find out more below.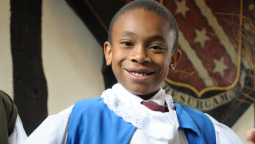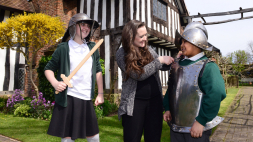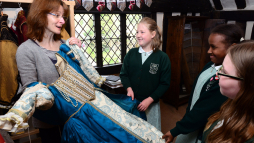 ---
1. Educational Film Packages
Discover our film packages which support topics on The Tudors and Great Fire of London. See our Guide to Film Packages, and watch the trailers below.
---
2. Digital School Visits
Find out more about connecting with our team online by taking a look at our Guide to Digital School Visits
---
3. Outreach Sessions at School
Find out about the experiences our team can deliver at your school by taking a looking at our Guide to Outreach School Visits
---
4. Covid Safe Visits to Selly Manor Museum
We currently offer 2 packages depending on whether pupils are learning about the
Great Fire of London or The Tudors, our guides contain all the information you need.
---
Want to book or find out more?
Please complete the enquiry form below or give the Education Team a call on 0121 472 0199
Castle Bromwich Infants- Jan 2020
'Thank you to Daniel for his enthusiasm and humour. We have had a lovely day'