Share
You are here:
News /
Object of the Month
What do your Christmas cards tell people about you? That you are well organised and have them dispatched and delivered before December has arrived? That you have other things to contend with, and despite best intentions they never get written, let alone sent. Or do they tell people that you like to support a good cause, or perhaps you like a bargain from Aldi? Well if you were Laurence Cadbury back in the early 1930s, your Christmas card told people a whole lot more than that.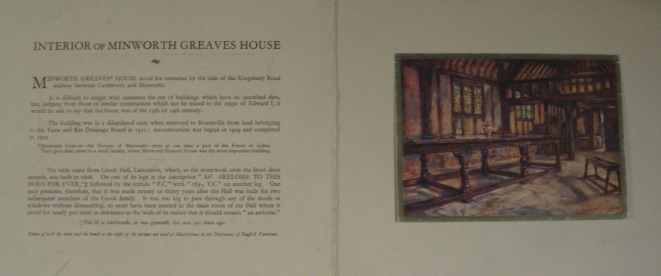 Above: The Christmas card sent by Laurence and Joyce Cadbury to their family and friends in 1932.
Minworth Greaves is possibly the oldest building in Birmingham. Thought to have originally been built in the 1300s, it once stood in Minworth, alongside the Curdworth Road, just north of Birmingham and close to Sutton Coldfield. It is a timber-framed medieval hall house built using cruck construction. The end sections of the building form the shape of an upside down letter V and the timbers are known as cruck blades. The crucks are created by taking a very large bent oak tree. The tree should be shaped straight up from the base for four or five feet, then angle diagonally at 45 degrees. The two crucks are then joined at the top to form the main structure, around which the remainder of the building can be constructed.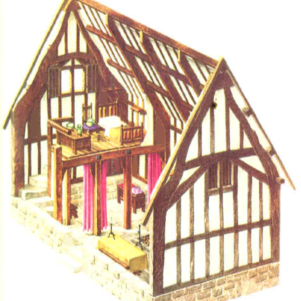 Above left: An image showing the timbers of the medieval hall of Minworth Greaves before it was moved to Bournville. You can clearly see the bent cruck blades which form the shape of the building.
Above right: An artist's impression of how the building looked when it was inhabited.
When it was lived in, Minworth Greaves would have been a large home for the time and so a relatively well-off family would have resided in the dwelling.  The main feature would have been a central fireplace which family life revolved around. The glazed windows we have today almost certainly would have been 'wind-eyes' - high openings with wooden bars, which allowed light in and air to circulate, but which also meant the building remained cold. The floor would have been made of earth, beaten down to ensure a level and firm surface and covered in straw to soak up any moisture. Life would have been tough for the inhabitants, especially in winter.
This ancient oak structure was found by Bournville architect William Alexander Harvey. Harvey had been scouring the Warwickshire countryside seeking old timbers for use in the repair of the Tudor house of Selly Manor, which was being rebuilt under his guidance in Bournville. During this rescue of Minworth Greaves in the early twentieth century, Harvey had the materials transported to Bournville in sections and stored in a large shed on site. At the time efforts were focussed on rebuilding Selly Manor on the same site, and due to the First World War this medieval hall was left unattended with no plans for reconstruction. Just a few years later George Cadbury wrote to his son Laurence. It was shortly before the elderly philanthropist's death in 1922 and he seemed to be intent on resolving any unfinished business as his time came to an end. Writing to Laurence, he instructed his son to oversee the rebuilding of Minworth Greaves and left finances for the project to be completed. Just a few months later George passed away.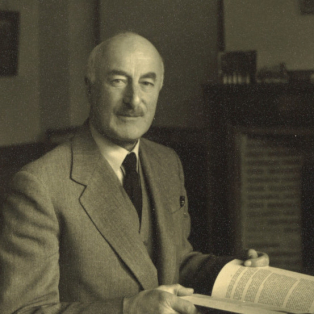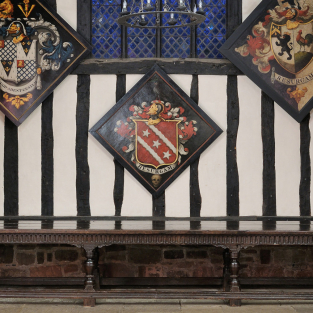 Above left: Laurence Cadbury (1889 - 1982) 
Above right: An interior view of Minworth Greaves today, along with the famous old table.
Laurence must have been struck with the energy a new and exciting project brings. Before any plans for rebuilding were made he bought a vast and magnificent oak table from a dilapidated house in Lancashire that would be ideally suited for Minworth Greaves. However the table was to spend nearly 10 years waiting for its new home to be ready. Perhaps the difficulties in rebuilding Minworth Greaves led to delays or there was debate as to exactly how it should be rebuilt - the architect Harvey submitted numerous plans for reconstruction. Eventually the project was begun but not until 1932 was Minworth Greaves finally finished.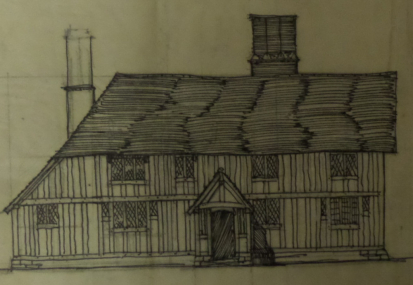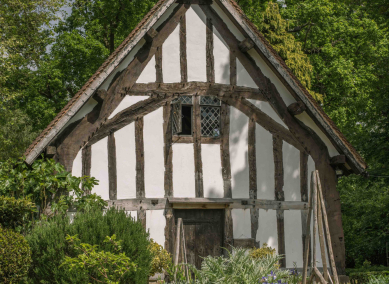 Above left: An architect's drawing (possibly by Harvey) with a proposal as to how Minworth Greaves could be adapted and reconfigured during reconstruction in Bournville. Above right: Minworth Greaves today.
In that same year notable antiquarian and artist Oliver Baker painted an interior view of the house, featuring those centuries old beams and that patient old table. Laurence Cadbury was rightly proud of saving such a special part of Birmingham's heritage and, as was his annual tradition, he marked the occasion by using Baker's painting on the cover of his 1932 Christmas card to share with all he knew. Accompanying the image was a short description that told people all about Minworth Greaves, and perhaps a fair bit about the sender too. What would the recipient have concluded? That Laurence Cadbury was wealthy and had exquisite taste? That he was well educated and he directed his energy into important causes? Yes, probably all of those things but also that he saw great value in the rich heritage of this building and was determined to ensure his father's wishes were completed.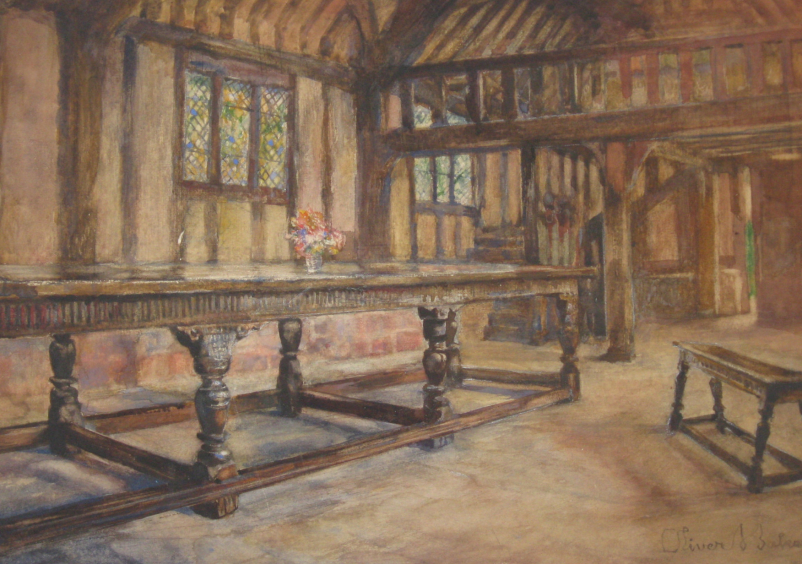 Above: Minworth Greaves by Oliver Baker, 1932