Share
You are here:
News /
Bournville's Architect
This is the story of William Alexander Harvey, one of the architects for Bournville village, based on research carried out by Gillian Ellis, Heritage Manager at Bournville Village Trust.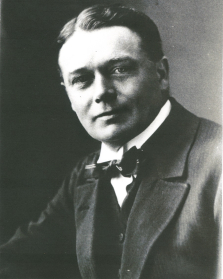 William Alexander Harvey (1874 - 1951)
---
Family and Background
William Harvey's grandfather, Alfred, appears on the 1841 census as a shoemaker, living in Yew Tree village, just outside Stinchcombe, Gloucestershire on the edge of the Cotswolds. Alfred lives with his wife, Susanna, and their 4 children. At this point, Harvey's father, John, has not been born, but Harvey's aunt, Selina has.
By 1851, Alfred has moved his family to the nearby town of Cheltenham, into a house on Ambrose Street. Alfred is listed as a cordwainer. This is a skilled trade, using leather to make high quality footwear. Harvey's father, John has is on this census. He is listed as 3 years old and 'Deaf and Dumb'.
By 1861, the Harvey family have moved again. Our research found them living in Birmingham. The address, for most of the family, is 104 Front House, Benacre Street in Balsall Heath. The house no longer exists, but its address strongly suggests that it was a back-to-back house. John Harvey is not listed as living there, but he can be found as a pupil at the
Birmingham Deaf and Dumb School
on Church Road, Edgbaston. Alfred has changed profession and is now a baker. Selina, is a 21 year old Milliner. There are two possible reasons for the family move to Birmingham. They may have moved to be nearer to the Deaf and Dumb School for John, or it could be that the family could see the city expanding, and took the opportunity to be part of the changing Victorian landscape of Birmingham.
Ten years later, in 1871, John and his sister Selina are living together at 70 ½ Hurst Street. This unusual address shows that this is certainly a back-to-back house. Selina is now running a wholesale millinery business and John is a glass painter. John worked at
John Hardman and Co
, Newhall Hill. Hardman's was founded in 1838 and manufactured of stained glass and fittings for churches. It closed in 2008. The Houses of Parliament have glass made at Hardman's.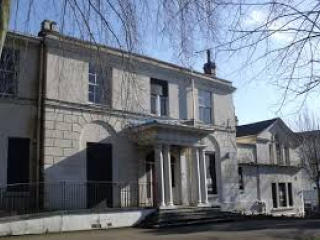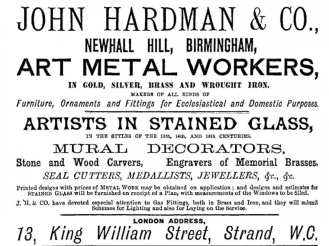 Left: The Royal School for Deaf Children which was attended by John Harvey in Edgbaston, Birmingham. The building has now been converted as part of a retirement village. Right: A late 19th Century advert for John Hardman and Company.
---
William Alexander Harvey's Early Life
The next census information is for 1881. John Harvey has moved out of the house he shared with his sister Selina (and a servant) in Hurst Street and is now married to Emma, from Liverpool. John and Emma have 2 sons, Ernest aged 8 and William aged 7. William was born on 11th April 1874. John is living close to his sister, just round the corner in a back-to-back at 63 Lower Hurst Street. John Harvey is still a glass painter at Hardman and Co. We have recently found a resident of Bournville who has a painting titled 'Dutch Girl' done by John Harvey, and another resident who has glass in her front door from Hardman and Co. The Harvey family appear to have a talent for creativity.
Ten years later in 1891, the Harvey family have moved to Prescott Street in what is now the Jewellery Quarter of Birmingham. Ernest, William's older brother, has followed his father's footsteps and is also a glass painter. The offices of Hardman and Co were in the Jewellery Quarter, so it is possible that they moved to be closer to John and Ernest's place of work. Many years later, in 1966, Prescott Street was used as a film location for the moving drama directed by Ken Loach, 'Cathy Come Home'. It is a powerful story of how easy it is to become homeless. The street no longer exists.
William is listed on the 1891 census, and it is at this point that we get a glimpse into the career he has chosen, as his occupation is listed as an 'architect's pupil'. He is working for D Smith and Son of 40 Bennett's Hill in Birmingham. Down the hill, and on the other side of the road is a very significant address. Number 11-12 Bennett's Hill was the birthplace of Edward Burne-Jones in 1833. Burne-Jones was heavily involved in promoting the use and craft of stained glass. He designed the windows in St Philip's Cathedral in Birmingham. He and a group of his friends at Oxford University formed The Brotherhood, also known as The Birmingham Set. They were friends who were either from Birmingham or who had studied at Kings Edward's School. This group included William Morris and John Ruskin, who were so influential in the Arts and Crafts Movement. The group was itself heavily influenced by the earlier Pre-Raphaelite Movement.
Several parts of the Harvey story are now beginning to come together: stained glass, housing, arts and crafts, architecture. It is inconceivable to think that Harvey was unaware of the Birmingham Set. A further piece in the story is that Harvey is also being taught architecture, probably by local architect William Bidlake, at the Birmingham School of Art, the UK's first municipal college of art. Only a few years later, at the age of 22, Harvey will be Chief Architect for the Bournville Estate.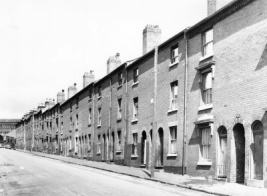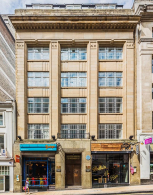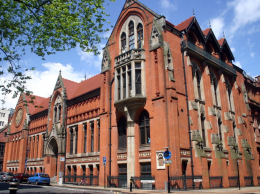 Left: The Harvey family home was in Prescott Street in the Jewellery Quarter of Birmingham. Centre: 11 - 12 Bennett's Hill, birthplace of artist Edward Burne-Jones. Right: Birmingham School of Art, Margaret Street, which was attended by William Alexander Harvey.
---
William's Career
Whilst at the Birmingham School of Art, he had won prizes for his sketches of medieval buildings and had travelled throughout Europe. He was well-educated and well-travelled young man. There is no record of where, how or when George Cadbury met Harvey. It seems highly likely that George would have seen the value of appointing someone who had first-hand experience of living in back to backs, and had an understanding of the arts and crafts movement.
Harvey first appears in the records in 1895 as a witness to the designs for the layout of the first houses on the Bournville Estate by AP Walker, Estate Surveyor. By 1896 Harvey had become the Chief Architect. It should be noted that Bournville had several architects, including George Gadd, SA Wilmot, Ewan Harper (The Almshouses), Henry Bedford Tylor (the Sycamore Road shops) and JR Armstrong (the Day Continuation School).
Harvey was very busy in the first 8 years. Between 1895 and 1903 he designed: 3 houses in Stirchley, Bournville Lane Baths, Bournville Estate Office extension, Mary Vale Road houses and shops, converted shops and house in Raddlebarn road, made alterations to Froggatts Farm to change it into a milk bar (better known as the Old Farm Hotel), Cotteridge Meeting Hall, the Gardener's Office, 'Fircroft' (a home for George Cadbury Junior), Ruskin Hall and 210 houses across the Estate. At this time, it was more common for architects to design houses for private individuals. To design public buildings was highly unusual. In 1901 Harvey received a letter from Ebenezer Howard, who first had the ideas for 'garden cities' in 1898. "When I saw you... I had no opportunity of expressing my great admiration and hearty approval of your work with all its charm and variety. Actions speak louder than words, and Mr Cadbury's benevolence which you have given so fitting a setting will do more than all the arguments of Economists to solve the great social problems of life." Harvey must have been immensely proud to have had this recognition.
Where is Harvey living during this time? At the time of the next census, 1901, the whole family are living in a house designed by Harvey: The Cottage: Linden Road, Bournville. William's brother, Ernest, has set up his own stained glass company, Harvey and Ashby, in John Bright Street in the city centre. By 1903 however, attitudes towards Harvey and his designs were beginning to change. George Cadbury Junior complained about the cost of building the houses in Acacia and Thorn Road, stating there was no need for semi-circular windows, hand-made bricks and tiles over doors and windows. The Village Council also raised concerns about house designs. They wanted sash, not casement windows, stairs to go from the lounge not the kitchen and no more sunken baths.
In the 1903 December Minutes of Bournville Village Trust it is noted that the time had come for Harvey to cease to give his whole time to the work of the Trust, but that he should be kept on as a consulting architect and that all future designs for buildings on the Estate must be shown to him before they were approved. It is not recorded anywhere how Harvey felt about this decision. After 1903, Harvey designed most of the more familiar buildings in Bournville.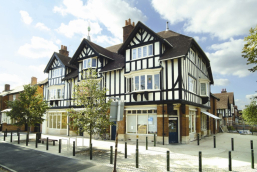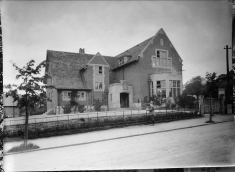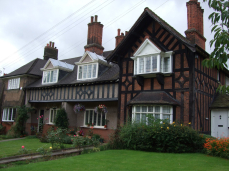 Some of the buildings designed by architect William Alexander Harvey in Bournville. From left to right: Mary Vale Road shops, Ruskin Hall and houses in Holly Grove.
---