Share
You are here:
News /
Businessman + collector
Born into a chocolate empire
Laurence John Cadbury was born on 30th March 1889 into a well known and high achieving family. He spent his early years at the family home of Woodbrooke on the Bristol Road in Selly Oak, Birmingham, a short distance from the newly emerging garden village of Bournville. Established by his father, Bournville was home to the Cadbury brothers' chocolate business, where Laurence was to spend so much of his professional life.
Laurence Cadbury's father, George Cadbury, and his uncle, Richard, had taken an ailing business inherited from their father, and turned it into a profitable and successful company. As the business thrived new premises were sought and the Bournville factory was built in 1879, followed by the gradual introduction of George's vision for a better place for people to live and work, as houses and a community were established from the 1880s onwards.
The eldest child of George and Elizabeth, Laurence grew up with ten brothers and sisters; five from George's first marriage to Mary, and five from George's marriage to Elizabeth. The family moved to the Manor House in Northfield, a short distance along the Bristol Road from Woodbrooke, when Laurence was 5 years old. Laurence seems to have been an active and adventurous child, and his early life contains stories of roof climbing, shooting air guns and getting into mischief with his brothers as they explored the grounds of the family home. He attended a preparatory school in Westgate-on-Sea and then the Quaker-founded Leighton Park School near Reading.
---
Study and Travel
In 1908 Laurence moved to Cambridge to attend Trinity College where he was amongst the first students to read Economics. Along with his studies, one of Laurence's chief occupations whilst at university was rowing. He competed for his college and was said to be unlucky not to be in the university boat in his final year. Perhaps inspired by the historic landscape around him, and the view of Trinity Great Court his rooms offered, as a young man he began to collect antiques. His interest was gradual but he would eventually amass a notable collection.
Upon completing his Economics Tripos at Cambridge, Laurence returned to Bournville in 1911 to take up a role at Cadbury's. His appointment enabled him to experience a range of roles and gain an understanding of how the business functioned over a three year training programme. In his second year Laurence was given the opportunity to travel to North America. He spent time working for the National Cash Register Company of America in order to broaden his business experience. However he sought adventure and spent a large portion of 1913 travelling the Yukon and Alaska, with his university friend Bob Vereker. The two adventurers, only just in their early twenties, spent much of their time in the isolated wilderness. Their escapades involved journeying through remote snow covered terrain looking for the next big game trophy, spending days at a time without supplies.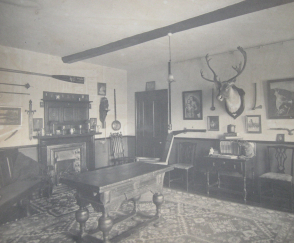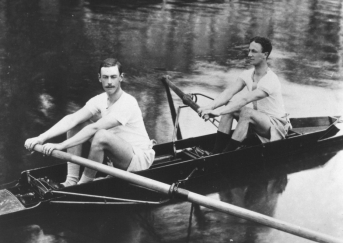 Left: Laurence Cadbury's rooms at Trinity College, Cambridge showing his early antiques collecti9on in about 1912.
Right: Laurence Cadbury (right) was a keen rower and is shown here with his partner winning the Magdalen Pairs at Cambridge in May 1911.
---
War
As Laurence returned to Britain in 1914, poised to resume his career at Cadbury's, his plans along with so many others' were interrupted with the outbreak of war. Laurence was keen to contribute to the war effort and had a preference to join a motorised unit. His interest in motor vehicles was well established and in 1913 he had won the Private Competitors' Race at the famous Brooklands race track. Laurence became a founder-member of the Friends Ambulance Unit staffed mainly by men from Quaker families and led by Philip Noel-Baker, later MP and Nobel Prize Winner. Laurence was part of the unit from September 1914 until March 1919 as transport officer, serving in Belgium and northern France. His distinguished service saw him granted the 1914 Star with bar and military O.B.E. by the British and the Croix de Guerre by the French authorities.
---
Cadbury's
In 1919 Laurence was appointed to the Board of Directors at Cadbury's as a Managing Director, and following the death of his father George Cadbury in 1922 held an increasingly influential role in the business. At that time chocolate was mostly hand made. Laurence was largely responsible for the introduction of automatic production lines, cutting production costs whilst drastically increasing sales. As Chairman from 1944 he oversaw a growth of sales from £14m in 1939 to £85m by his retirement in 1959, whilst at the same time developing the firm from 16,000 employees to 27,000 with international interests in Canada, Australia, New Zealand and South Africa. Laurence went on to hold the position of Chairman longer than anyone except his father.
---
Family
In 1924 Laurence became engaged to Joyce Matthews, and they married the following year. The couple lived at The Davids, a house close to where Laurence had grown up, and he would later state that despite travelling the globe he had only ever lived within a half mile radius of where he was born. Laurence and Joyce had six children; Julian, Adrian, Veronica, Anthea, Dominic and Jocelyn. In later years Laurence's children enjoyed tremendous successes in their lives and careers but the family were beset by terrible tragedies. Julian was killed in a motor accident in France aged just 24, Anthea and her husband died in an air crash at Innsbruck in 1964 and in 1982 Jocelyn, MP for Northfield, was found dead at The Davids aged just 36. The impact such events must have had on Laurence and his family would have been devastating.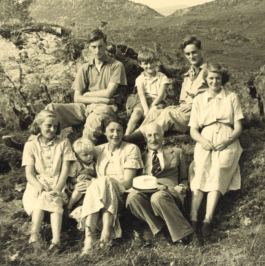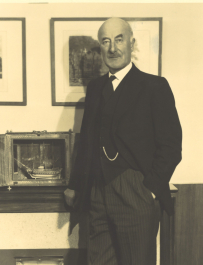 Left: Laurence and Joyce Cadbury with their children, 1940s (left to right back row: Adrian, Dominic, Julien and Veronica,
left to right front row: Anthea, Jocelyn, Joyce and Laurence)
Right: Laurence Cadbury with one of his treasured model ships int he 1950s.
---
Career
Laurence Cadbury's business and economic acumen was recognised by Montague Norman, the Governor of the Bank of England, when he was appointed as a Director of the Bank of England in 1936, a position he held until 1961. His talents did not go unnoticed, and during the Second World War Laurence was selected as Head of the Economic Section of the British Mission to Moscow. Following the German invasion of the Soviet Union in 1941, the Mission negotiated and arranged the supply of materials from the British Empire to the Soviets. Laurence attended and recorded his diplomatic meetings with foreign affairs minister Molotov and intimidating encounters with Stalin. At a time when Moscow was frequently bombed, and the threat that German forces might reach the city, Laurence hunkered down in embassies with his colleagues planning how Britain could best support the Eastern Front, so long as it met British interests.
During the Second World War significant sections of the Bournville factory were converted for the manufacture of war materials. Laurence Cadbury chaired a new company called Bournville Utilities which was set up to manage this production. Amongst many different supplies made were more than five million service respirators, also known as gas masks. Following the war Laurence was invited to attend the Nuremburg War Trials. Whilst his position was not official his attendance can no doubt be attributed to his close friend and former employee of Cadbury's, Norman Birkett, who had been appointed by the British government as alternate judge at the trials. Laurence's written descriptions of life in war ravaged Germany are poignant; his observations of the Nazi defendants huddled around Hermann Goring are chilling.
After his father's death, Laurence sat on the Board of the Daily News, a liberal newspaper originally founded by Charles Dickens in 1846. Under George Cadbury's ownership the paper campaigned for old age pensions, fought against sweatshop labour and opposed the Boer War. In 1930 Laurence became Chairman and negotiated the purchase of the Daily Chronicle. The two newspapers merged as the News Chronicle and at its height sold 1.5 million copies daily. Laurence was extremely interested in the newspaper business but it was a challenging and competitive industry. In the 1950s a gradually falling circulation coupled with declining advertising sales led to financial pressures. As Chairman, Laurence decided to sell the paper as a going concern in order to save jobs and provide the finances for those left without employment. An outcry ensued when the paper was sold to the conservative Daily Mail and the situation made worse by a legal challenge by a shareholder against remunerating employees. Laurence was blamed, his reputation tarnished and the experience was to become difficult to shake off. Following his death, it was not Laurence's many and varied achievements which dominated his obituaries but the closure of the News Chronicle. Laurence's contribution to London, both in business and economics, was however recognised by his appointment on two occasions as Sheriff of the County of London.
A constant throughout Laurence's life and career was his dedication to Bournville Village Trust. Established in 1900 to safeguard and build upon the estate established by his father, Laurence began taking an active role as a trustee from 1910 onwards. Following in the footsteps of his mother, father and elder brother George, Laurence became Chairman in 1954. During his chairmanship of 24 years the Trust doubled its housing stock to 7000 properties and quadrupled the value of its assets.
Facing the threat of land being requisitioned by the local authority in the post-war years, Laurence oversaw the Trust borrowing funds and thus enabling the provision of much needed housing. The 1967 Leasehold Reform Act gave leaseholders the right to buy their freehold. The effect of possible fragmentation of the estate could have been serious. Laurence was active in promoting an action in the High Court to secure a Scheme of Management, which enabled the Trust to uphold standards of appearance and amenity, by requiring freeholders to obtain Trust approval for external alterations to property in Bournville. This act has helped to maintain the aesthetic character of Bournville to this day.
Laurence Cadbury died on 5th November 1982, aged 93. Such a description of a high achieving, committed and talented man born into the Victorian work ethic of a dedicated Quaker family, but whose life spanned the vigour and horror of the twentieth century, tells us only so much. His various titles, appointments and awards reveal a professional competence, which was occasionally brilliant and always steadfast. Laurence's adventurous character is exposed by his love of travel to the more challenging parts of the globe and his inclination for the seemingly non-Quaker pursuit of hunting. His studious and inquisitive nature however is perhaps best revealed by the objects which he chose to collect and surround himself with, many of which can be seen on display at Selly Manor Museum in the heart of Bournville.
---
If you would liken to know more about Laurence Cadbury and his collection at Selly Manor Museum then a fully illustrated collection catalogue is available from the museum's gift shop.
This blog is part of Bournville Heritage Online 2020.