Share
You are here:
News /
John Alsop (1828-1909)
Background and early life.
John Alsop was a British artist, who lived in Birmingham, having been born on Colmore Row. He was the son of Josiah Alsop, a doctor who moved to Birmingham in 1824 from the area of Matlock in Derbyshire. Alsop's father died when John was four, having contracted cholera during an outbreak which he was helping to fight. His father too was an artist, and he left some of his own watercolour paintings behind, which may have inspired John's artwork. His mother was named Anne Maria Alsop and he also had a sister called Jessie. He attended King Edward VI Grammar School in New Street and went onto study at the School of Art alongside his brother Frederick. At the School of Art he and his brother thrived, winning numerous accolades. Alsop was also deeply religious, being a member of the evangelical tradition in the Christian church.
---
Commercial Career.
As he approached adulthood, he was offered the chance to work at Attwood's Bank but, due to a somewhat impractical attitude towards money (which he perceived as corrupting), he refused, choosing to run his own commercial scheme. John would likely have had a stable career at Attwood's, with the banker being the well-known leader of the Birmingham Political Union which promoted the passing of the 1832 Reform Bill. Alsop's methods, particularly his disinterest in money, were unsuitable for business, resulting in his commercial life as head of his own firm ending in 1863 and leaving him with limited finances. He later became agent for Messrs Betterley and Co of Valparaiso, and held this agency until Betterley died, sometime around 1880.
---
Career as an artist.
Between 1853 and 1858 John contributed regularly to the exhibitions of the Royal Birmingham Society of Artists. Most of these were Scottish scenes which he had completed on painting tours with his brother Frederick. Alsop's work is known for providing a record of the natural and man-made landscape of the countryside around Birmingham, largely before it came under threat from the expanding town and suburbs. Alsop noted these changes and made clear that he preferred the area in its more natural state. Alsop also made notes on the back of his sketches, giving insights into the life of a late Victorian amateur artist.
During the summertime, he liked to walk around Birmingham, sketching and note-taking. During the winter months, he created watercolours based on these sketches. As well as Birmingham, he sometimes took the train to more distant areas across the Midlands. One of Alsop's main inspirations is thought to have been John Constable (1776-1837), whose work was renowned for its simplicity, directness and honesty. The simplicity and truth of Alsop's paintings were reflected in his personality, with his simplicity of tastes, plain living and high thinking. Despite his talent, he never saw money as a means of happiness so never pushed his interests in a practical manner. That his work would have brought him wealth had he offered them to the public is clear from how, following his death, the friend into whose hands they were placed was besieged with requests for them.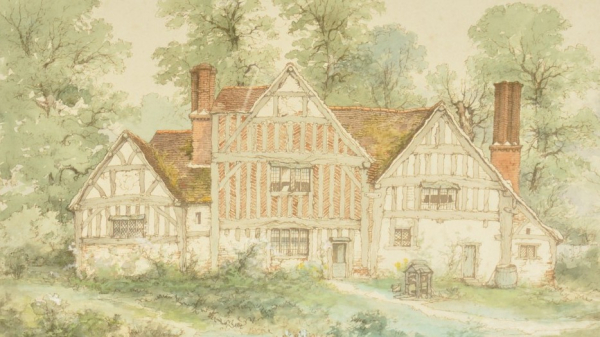 The back of Selly Hill Old Hall' by John Alsop, c.1890. This is a watercolour painting which he based on sketches made before 1860. Selly Manor was then known as Rookery Cottages.
---
Other Pursuits.
Alsop had various interests outside art. For example, he researched, but never completed, a history of the Early Church in Britain. He called his notes on this 'The Chronicle', though the manuscript is still missing. Additionally, he was fascinated by philology and Roman Britain. Upon finishing at King Edward's, he had developed a love for ecclesiastical history, and would likely have studied at Oxford, had he not had to look after his family, who were poverty-stricken due to his father's death. As the widow of a professional, his mother had lived a simple life to ensure her children were raised and educated well.
Alsop also took a keen interest in the spiritual world. This could have stemmed from a story which his great-aunt, Mary Matthews, told him when he was a boy. She told him that she had had a vision of a friend, who had moved to the other side of the Atlantic Ocean. She was surrounded by a halo of light and told her "this is how I escape from all my troubles". It was later found out that she had died on the same day as Mary's vision. Alsop made a collection of "authenticated ghost stories", titled 'Footsteps on the Borderland of Hades, the unknown place', some of which happened in his family, but which he never published. 
As an artist he favoured sites with rich histories behind them, such as St Kenelm's Church, located in Romsley, Halesowen and named after an Anglo-Saxon saint, and Halesowen Abbey, of which only ruins remain today. He always liked to record past events, as he was in effect a historian. Furthermore, he loved the mulberry trees of Stratford-upon-Avon, as well as the houses of the Elizabethan period, which he did pen-and-ink sketches off, and which are considered some of his finest works. The interests of his works circled almost exclusively around the Midlands, contributing towards his local fame. For example, The Lickey Hills was one of Alsop's favourite sites. Many of his sketches were purchased by members of the Cadbury family, who were interested in them as sketches of their Worcestershire property.
---
Death and Legacy.
One morning Alsop fell in the road to St George's Church, in Edgbaston, and was carried home, ill. The eldest daughter of Frederick Alsop wanted John to move into her house in nearby Holly Road, where he would remain for some weeks under her care. Eventually, it was necessary for him to be taken to a nursing home, where he later died. There were many landscape pictures stored in his room/studio, with the time and circumstances in which they had been sketched inscribed on the back of each. He had also recorded conversations with wayfarers, and other events during his travels. They were made publicly available following his death. Though his local views were inordinate, their full extent will probably never be known as his works were haphazardly sold off following his death. Furthermore, few of his watercolours are dated, apart from the day and month, with those that are dated providing a date-range between 1876 and 1897. Birmingham Museum and Art Gallery possess sixteen of Alsop's watercolours of the Midlands countryside, the Collection being formerly part of the holdings of the Birmingham and Warwickshire Archaeological Society, to whom they were given by the Alsop family.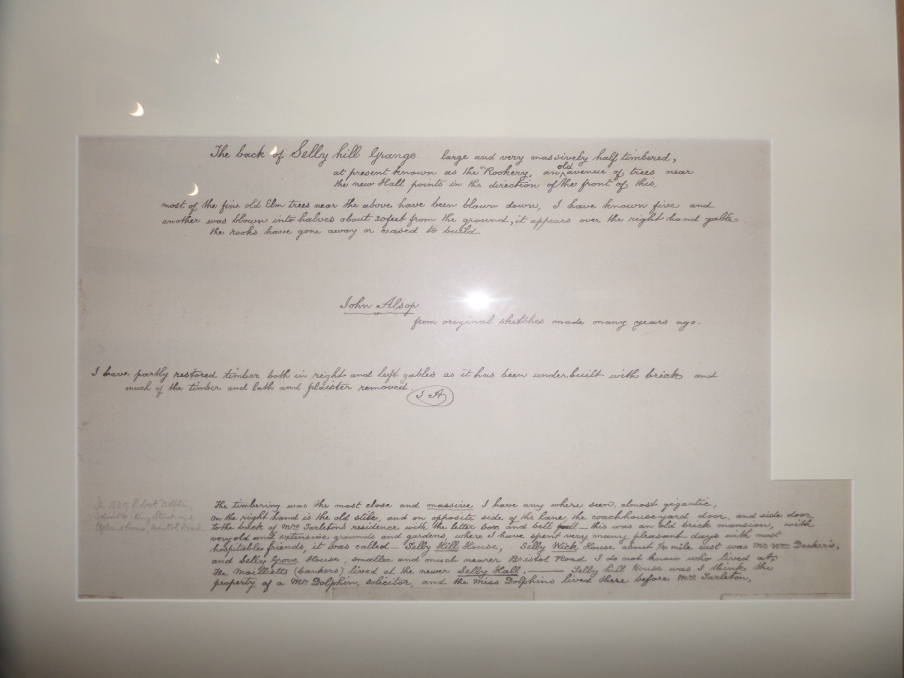 This is an example of the notes which Alsop would make on the back of his illustrations, with this being the reverse of his 'The back of Selly Hill Old Hall' image above.
- Daniel, volunteer.