Share
You are here:
News /
Past-Future 2023
Past-Future is an annual heritage work experience programme for young people aged 16-18. This year 9 young people spent one week at Selly Manor Museum during the summer, July 31st - August 4th 2023.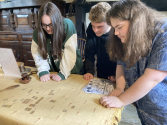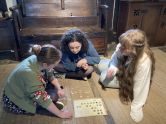 With thanks to The Arts Society and the CB & HH Taylor 1984 Trust who funded this years Past-Future programme, enabling Selly Manor Museum to offer a bursary to every young person taking part and removing barriers to access.
The aim of the programme is to offer those participating the opportunity to learn more about the heritage industry, try out different museum jobs, develop transferable work skills, and support Selly Manor Museum to improve its provisions for young people.
Watch - what the participants thought about the experience in these videos: Video 1 Video 2.
Read - about what they got up to each day here. 
---
It was was a pleasure to host a speed networking event that gave the young people an opportunity to engage with heritage professionals from the West Midlands, learn about their jobs, and ask them questions.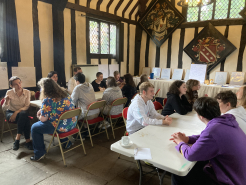 ---
As part of their experience, the young people were able to plan their own event to host at Selly Manor Museum. 
Murder at the Manor was the event that the Past-Future group planned as part of their work experience week. The script, information, and activities taking place were all planned by the group to be delivered on Saturday 18th for Kids in Museums Takeover Day 2023. It explores this years theme of Let's Play through an interactive Murder Mystery. 
    
---