Share
You are here:
News /
Toby Does a Great Job!
I'm Toby, and I've been on a student work experience placement every Monday here at Selly Manor this academic year.
I have done a variety of different things during my time here, mainly in the garden such as general weeding, picking up leaves in the autumn, and making sure that the garden is clean and tidy, ready for visitors for the week. I recently had a go at using the leaf blower to clear the paths. I have also done jobs around Selly Manor and Minworth Greaves, like dusting, vacuuming the floors and helping to tidy away from events. I sometimes helped serve the school groups in the gift shop
The thing that I have enjoyed the most has been working together as part of a team to help keep the garden and the buildings tidy and maintained. Something about me is that I love helping people in practical ways that I will potentially use in the future.
My favourite object in the Manor is the spit jack in the dining room. This is because it is fascinating in how it works and that it can still function. I like how it was used to cook food over the open fire.
My favourite part of the garden is the woodland area with the garden privy. I like it because in the Summer, it becomes well sheltered and can provide some nice shade on a sunny day.
To wrap things up, I have really enjoyed my year at Selly Manor, and it has been amazing to work with such excellent people during my time here. I would love to consider volunteering here at events in my spare time as I will miss working here on Mondays.
Toby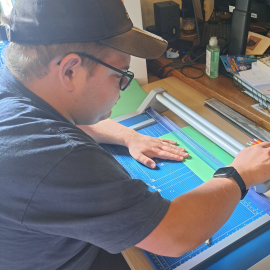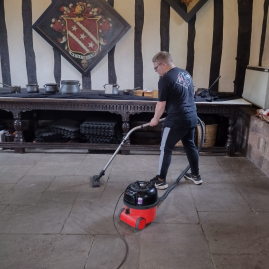 ---
The Selly Manor Museum Team can't thank Toby enough for the amazing work he has done since September. Toby has become a real part of the team and we always look forward to seeing him on Mondays. Toby is hard working, great at looking after our lovely garden and has always come along with a big smile on his face! Toby - we'll miss you but look forward to you volunteering again soon.
Dan, India, Louise, Emma + Megan x