Object of the Month: The Lantern Clock

Share
You are here:
News /
Object of the Month: The Lantern Clock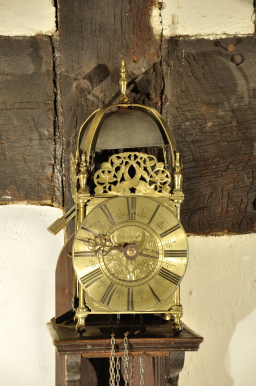 What is its origin?
The Lantern clock is made purely of brass and is comprised of a frame of four columns fixed between top and bottom plates. These clocks were produced until the beginning of the nineteenth century and in those years, they were even exported abroad. They were the first type of clock widely used in private homes.
Why is it named the 'Lantern clock'?
Although there is a large debate surrounding the name of the clock, it is thought the lantern clock was named due to its physical similarity to a lantern or from the old word 'latten' which was used to describe copper alloys. However over the years it has been given a range of names, one of them being the Cromwellian clock due to it similarity to a Cromwellian helmet. Some people refer to it as a birdcage clock due to its dome and fixed columns which match the designs of seventeenth century bird cages.
Why is our so special?
Thomas Huttly of Coggeshall created the clock in 1680 and his clock shows strong Dutch influence, which was the height of fashion in the 1660s, therefore making it very popular. An interesting element of the lantern is that the clock only has an hour hand and there is no hand to indicate the minutes. Furthermore, Huttly also engraved his name and place of manufacture onto the dial. The fret on top of the clock is engraved with a dolphin motif, which may have been inspired by sixteenth century engravings of sea beasts which were commonly depicted in pieces of art. The Selly Manor lantern clock was also designed to allow it to be wall mounted. Nowadays, it can be extremely rare to find an original lantern clock.
How does it work?
Lantern clocks were originally weight-driven having usually one weight for time keeping and a second for striking. However, a few later lantern-style clocks were constructed with spring mechanisms. It is the dome formed by a bell, with open fretwork connecting the bell to the dial that creates the chiming sound as the clock strikes the hour.
Why is it at Selly Manor?
The clock, which is now on display at Selly Manor, was originally owned by Laurence Cadbury who had the clock mounted on the wall of his university dorm at Trinity College, Cambridge.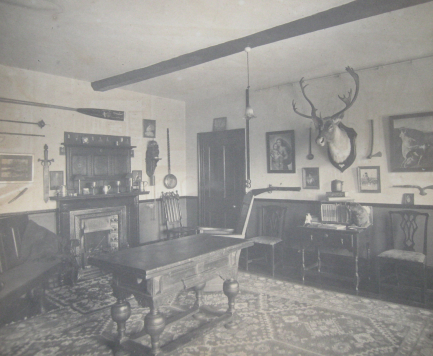 Laurence Cadbury's rooms at Trinity College, Cambridge. Note the lantern clock on the back wall, to the left of the door.
Ruby Taggart, Work Experience Student