Share
You are here:
News /
So what would I wear?
Tudor Fashion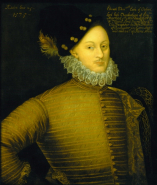 In the Tudor period clothing was a very important symbol of wealth and class and you could learn a lot about a person by just looking at them. Unfortunately, few contemporary examples of Tudor clothing survive today and most evidence comes from paintings of the upper classes. However, despite the limited evidence, we can build quite a clear picture of the fashion of both lower and upper class Tudors.
Middle and lower class Tudor fashion focused on practicality rather than adornment. For example, women would generally wear a thick woollen dress with a laced bodice and full skirts, usually with an apron on top. Men would wear long hose, lose trousers called "breeches", a shirt and a thick waistcoat. Most clothing for the lower classes was made out of wool and linen as it was cheap and accessible, but there was also laws prohibiting them from wearing more expensive fabrics! For example, only people earning over £100 per year could wear satin, damask, silk, camlet or taffeta. Members of the lower class would just wear their smocks and a nightcap to sleep as they could not afford special sleeping clothes and many would only have one set of clothing to wear during the day.
Wealthier Tudors, such as members of the aristocracy, wore much more luxurious styles and fabrics that were influenced by royalty such as Henry VIII and other important members of court. Only the royal family were permitted to wear purple, but other popular colours for the wealthy included red, gold, silver and black.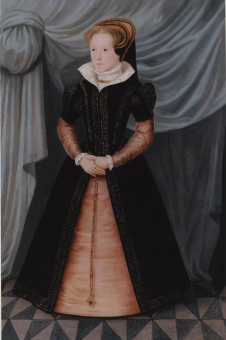 All Tudor women would wear a linen shift under their dress, which acted as a form of underwear. They could be washed easily and were worn to protect the dress which was difficult to wash. Women of high status would wear a corset and have a bodice strapped onto them to emphasise their shape. Dresses were designed to be a triangular shape, and sleeve styles varied between bell sleeves and hanging puff sleeves. Embroidered and jewelled headdresses were also popular at court, and were another symbol of wealth. Particular makeup trends are synonymous with the Tudor period, such as very pale skin and using red ochre as a lip and cheek stain. Leather shoes and boots were popular for both men and women, but richer women would also wear silk or velvet slip on pumps indoors.
Many rich Tudor men would dress just as lavishly as the women, with white frilly shirts, striped trousers, a gown (a thick overcoat), a scholarly hat or flat cap, and ruffs. A ruff is a piece of pleated fabric (usually linen or cotton) worn like a collar, but as they became more mainstream, they became more extravagant with lace additions. To further accessorise, men would often wear a belt with a sword hanger, ready to jump into battle or a fencing match at any time. The main aim of their outfits were to create a wide shape, to evoke a sense of power and strength from their appearance.
You can view some beautiful Tudor costumes in our mini costume exhibition currently in Selly Manor Museum. 
Macey, Student Volunteer