African Visitors to Bournville

Share
You are here:
News /
African Visitors to Bournville
African Visitors to Bournville
Bournville has a long history of receiving visitors from around the globe. Bournville was built as 'the factory in a garden' and was pioneering in the fields of industry, housing, education and health. The design of Bournville became the blueprint for many other model villages and many have credited Bournville with laying the foundations for the development of the Garden City Movement. The practice of receiving visitors dates back to the early years of the foundation of Bournville, and the first Visitors' book was begun in 1881. From this point, Bournville received many interested visitors from around the world, who had a variety of backgrounds and agendas. Visits to Bournville soon grew nationally as well, as railway companies began running excursions to Bournville. Before the outbreak of World War Two, Bournville was receiving around 150,000 visitors a year – from Britain, Australia, America, Japan, Korea, Uganda, Russia, Nigeria, Germany and many other corners of the world! 
The reasons for visiting Bournville were as far apart as the countries the visitors came from. Guests came from 'the trade' to see how the factory worked, many came to study Bournville's approach to social problems, housing and town planning, some came out of general interest for this idyllic spot, whilst others were students or officials on tour. Many of these visitors were 'ordinary' people, but countless were also noteworthy guests from learned and technical bodies or distinguished overseas visitors that were invited on behalf of the Foreign Office, Colonial Office and other official bodies.
This photography exhibition showcases a range of photographs of African visitors to Bournville, collected from the Bournville Works Magazines, a monthly publication created at the factory. Despite the long journeying time, African visitors to Bournville became commonplace by the mid-twentieth century, as Cadbury's had close links with many African nations and the pull of Bournville extended across the globe. The exact number of African visitors to Bournville during the twentieth century is unknown but dozens were documented in each Bournville Works Magazine from c.1940 onwards. As with other visitors, there were a variety of reasons for Africans coming to Bournville and many of these visits are well documented. This was partially out of fascination for 'exotic' visitors, but also due to Bournville Works Magazine's desire to extensively document life in Bournville and those relating to it.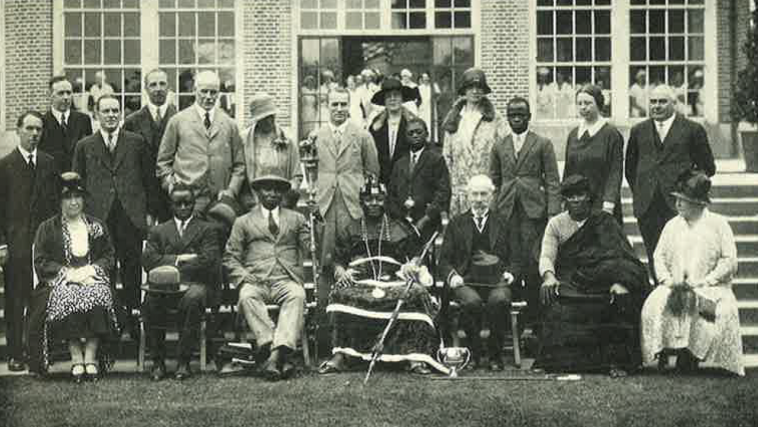 Sir Ofori Atta's visit to Bournville, 1928
---
Africa and Cocoa Production
Cocoa beans originated in South America and cocoa was consumed as a drink by the Mayans and Aztecs. It was introduced to Spain in 1528 and with the addition of sugar, the drink became popular, leading to Spain creating cocoa plantations in its colonies in the West Indies. In the late 17th century, as cocoa drinking spread across Europe, French, English and Dutch plantations were also established in the West Indies and South America. Although there were attempts at introducing cocoa into Africa much earlier, it wasn't until the late 19th century that production began on any substantial scale. The first large-scale production was in the 1880s from Portuguese plantations on the islands of São Tomé and Principe, off the coast of the Republic of Congo. Cadbury's initially bought cocoa from there before moving their buying to different African nations, primarily Nigeria, Cameroon and Ghana.
Due to the global nature of the company, Cadbury's had a lot of staff in Africa. The staff were employed in a number of different areas: buying cocoa, collecting and transporting it to main centres, storing and shipping it and working on the cocoa plantations themselves. In the early days the actual buying was mainly done by European members of staff but because of the huge growth in the industry, by the 1930s more of this was being undertaken by African employees. Large numbers of local staff were also needed for the complicated procedure of collecting and shipping as well. Cadbury's staff was mainly in Ghana, Nigeria and Cameroon, but work and research was done throughout Africa, and they established a factory in Port Elizabeth, South Africa.
It was Cadbury's long held policy to arrange visits to Bournville for certain members of their African staff, so it was not uncommon to see them in Bournville. For some years this happened annually before becoming less frequent. It allowed African staff, often from the Gold Coast, to gain insight into Cadbury's and was seen as a valuable tool for education. Other staff were sent to Bournville from Africa for specific training. There was also an annual reunion in Bournville for the 'Coasters', who were European and African staff who worked in West Africa. As well as touring the factory and estates these visits would include lots of social events. These reunions were much loved by the staff who attended. In addition to Cadbury's overseas staff, many officials came on 'goodwill visits' to Bournville on behalf of regions that worked closely with Cadbury's. Ministers and chiefs from big cocoa growing areas commonly visited Bournville as a form of networking and to build better relationships. The frequency of these visits tells us how important they were to maintaining good overseas relations, as well as contributing to business expansion. A few of the long list of visitors to Bournville were the Ghana Cocoa Marketing Board, the Minister of Agriculture and Natural Resources (Western Nigeria), the Minister of Commerce and Industry (Sierra Leone), various trade ministers and even on occasion West African Farmers.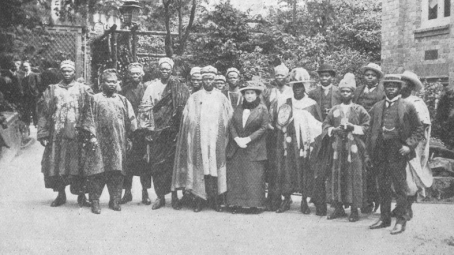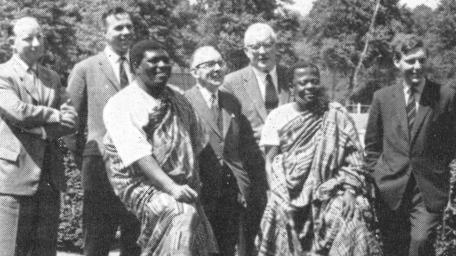 Left: Nigerian Chiefs outside the Works, 1913. Right: Export and Buying Office colleagues from Ghana
---
Sir Ofori Atta
This section will spotlight Sir Ofori Atta and his visits to Bournville. Sir Ofori Atta was the Paramount Chief of Akim Abuakwa (Ghana), one of the most important cocoa-producing districts in the Gold Coast, and a member of the Gold Coast Legislative Council. Sir Ofori Atta first came to Britain in 1928 to receive the accolade of the Knight Commandership of the Most Excellent Order of the British Empire which was awarded to him by King George. It was remarked in that he was 'without a doubt our most popular visitor [to Bournville] since King George and Queen Mary came in 1919'. The whole factory was excited by his visit and put on unusual demonstrations, as well as hundreds of employees waiting to greet him.
'It is good to be here', he said, 'our very life depends upon your existence.' Much of the cocoa used in Bournville was obtained from Akim Abuakwa. Although he was in Bournville as part of a larger visit to Britain, it was an important way to foster good relations with the company, as well as get to view some of the processes of making chocolate.  While looking at a machine which blew open paper bags before automatically depositing the required amount of cocoa in it he said, 'There are people in my country who would call this machine god-like. It is indeed very wonderful.' He watched the processes in the factory with fascination and 'untiring enthusiasm'.
Upon leaving the country Sir Ofori Atta despatched a radiogram  to Cadbury's saying 'Shall ever remember your warm reception and hospitality. Good luck!' Cadbury's also received from the State Council of Akim, a letter in reference to the visit which said,  'we would assure your Firm that memory of the kindness, respect, and courtesy thus shown will ever be cherished and perpetuated by the people of the State'. This letter also reaffirms the importance of these visits between states for strengthening business bonds. Good relationships would likely lead to continued buying of cocoa beans from Akim, where it was a crucial industry.
Sir Ofori Atta visited Bournville again in the 1930s; many people had lively recollections of his last visit and the hearty welcome he was given, and there remained a great interest in his visit. On this visit, Sir Ofori Atta was accompanied by official representatives of the Gold Coast and Ashanti farmers, who were visiting Britain as a delegation to the Colonial Office. This visit was more concerned with the cocoa industry; as well as a tour of the factory, it included a friendly discussion about the current low world prices of cocoa and the impact of this on West African farmers.
The relationships that were being built upon in these visits did not end in Bournville. Sir Ofori Atta also visited Mr and Mrs William A Cadbury at their home at Wast Hill. He also received them at his palace at Kibi in 1930 while they were on a tour of Africa. Sir Ofori Atta's warm reception in Bournville also extended to his family; two of his daughters and his son also visited Bournville.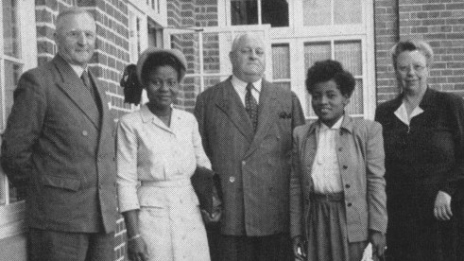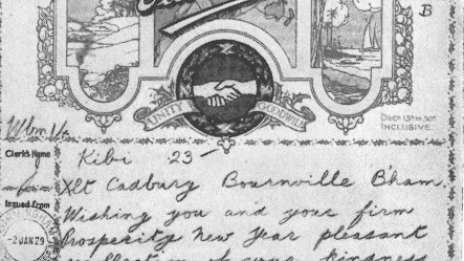 Left: Sir Ofori Atta's daughters on a visit to Bournville, Akuffo Addo (left) and Dr Susan Ofori (right). Right: A telegram from Sir Ofori Atta.
---
Miss Ghana
It became custom in the mid-twentieth century for Ghana to send a 'beauty queen' on a goodwill mission to Bournville. 'Miss Ghana' was chosen by popular vote to represent the new state of Ghana. Typically 'Miss Ghana' would come on a tour of Britain and would visit Bournville as part of that tour. These girls would usually come from small villages in Ghana and would be thrust into the spotlight in Britain, doing an intense tour in a country they had never visited, with a lot of publicity. Many of those in Britain who met 'Miss Ghana' were delighted by the experience and favourable reports of their characters were remarked upon.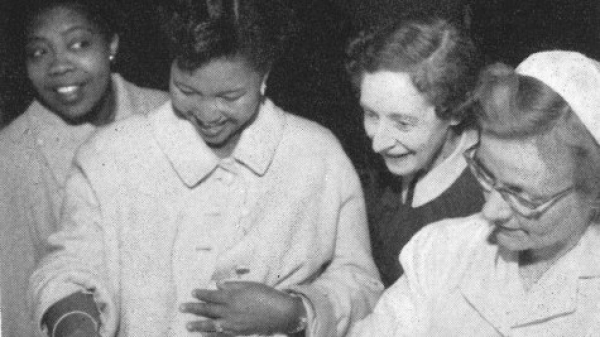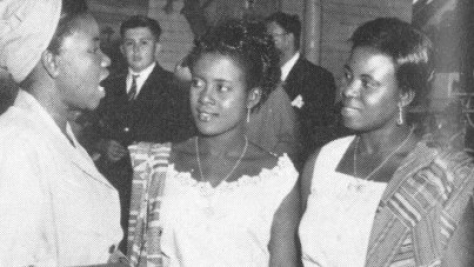 Left: Miss Ghana being shown how chocolates are decorated. Right: Miss Ghana chatting to a Nigerian student who was working in Bournville
---
Education
Cadbury's was not just a world leader with their innovative social and educational programmes but also with their industry. Many African officials visited Bournville and Cadbury's to learn more about these things. Some came to study how different industrial techniques were used, came to see new technologies or on a visited as part of a Cocoa or Colonial Conference. The British Council also arranged to host government officials from different countries in Bournville. These Africans were distinguished and often high ranking in their countries; chiefs, ministers or from other official bodies. While in Bournville they would tour factories, housing estates and civic departments, followed by discussions on all they had seen and heard. Many of these groups were seeking to build on trade relations with Britain.
Mr K Gbedemah, pictured below left, was brother of the Gold Coast Minister of Finance. He visited Bournville to study its factory education schemes and more extensively learn about systems of apprenticeships that could then be applied on the Gold Coast, as back home his job was concerned with placing young workers in appropriate trades and arranging their training courses.
In one example, the African Colonial Conference members were hosted in Bournville and received lots of attention. The party included members of the Nigerian Legislative Council, Gold Coast Legislative Council and two paramount chiefs with their wives. This party was greatly impressed by the efficient technical processes used in the factory, especially those used in making and packaging cocoa powder and in wrapping 'Roses'. The photographs on this page are from this visit.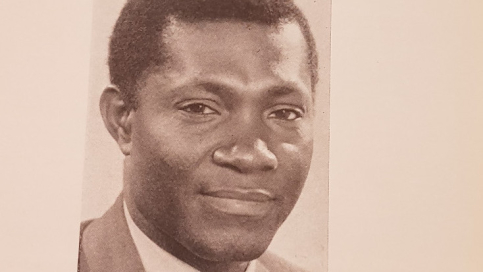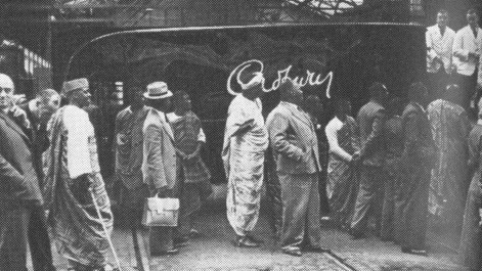 Left: Mr K Gbedemah, brother of the Gold Coast Minister of Finance. Right: African Colonial Conference delegates at the dispatch dock
---
Students
Bournville frequently hosted African students who visited Bournville while they were studying in Britain. Nearly all of these students came to Britain on a scholarship which had been set up by different trusts and companies. As education was something the Cadbury family really valued, a number of scholarships for African students were available, most offered within cocoa growing regions, where Cadbury's were investing in education already. Cadbury Scholarships were instituted in African universities, such as in Accra, Ghana, giving some students the opportunity to visit Bournville. Students also annually visited from the Boeke Trust, who awarded two bursaries to Ghanaian students each year to come and study in England, one at Fircroft and one at Hillcroft. Each bursary holder was then invited to Birmingham for a week as a guest of the Boeke Trust committee where their programme would involve a tour of Bournville. This scheme was a gesture of friendship to Ghana. Students also visited on non-Cadbury related scholarships such as from the English Speaking Union.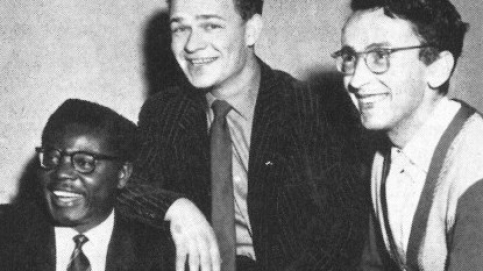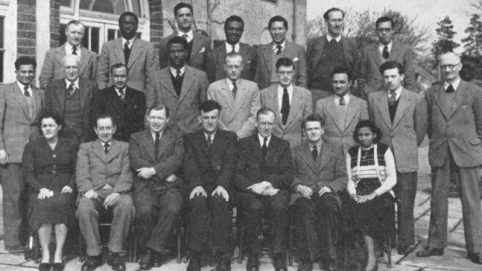 Left: Fircroft students from Ghana, Norway and Poland: Mr Herbert Okoe (left), Mr S. Nanowski (right) and Mr B Nesset (central).
Right: Colonial Officials at Rowheath
---
Journalists
This group was a bit more unusual. Journalists or newspaper editors occasionally visited Bournville on tours of Britain. This was usually to study social and political conditions, or to view the technology in the factory. They would then report back on this when they were in their own countries. These journalists came from many regions of Africa.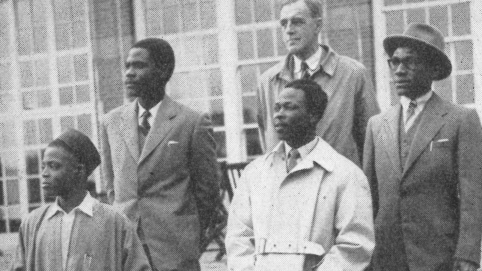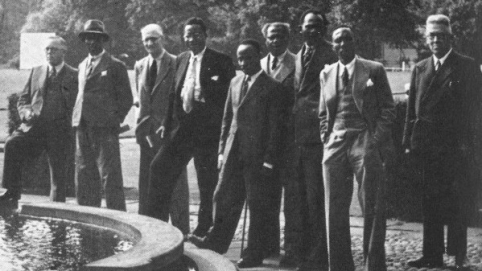 Left: Sudanese newspaper editors in Bournville, 1952. Right: African Press Party in Bournville, 1950