Women's History Month Roundup

Share
You are here:
News /
Women's History Month Roundup
We have had a brilliant time celebrating Women's History Month this March!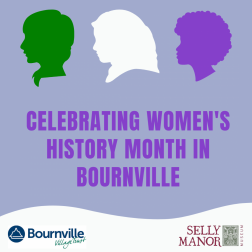 We started the month by holding our first annual women's history symposium called 'Untold Stories: Celebrating Women's History in Birmingham'. This event was generously hosted by the Woodbrooke Centre and we had an inspiring evening hearing from three different speakers. Fiona Joseph told us about the contributions of Cadbury's Angels during WW1, Dr Sian Roberts spoke of the active suffrage movement in Birmingham and Dr Sian Robert shared the stories of different 20th century Quaker women and their commitment to providing aid both at home and abroad. The event was a huge success are we are excited to start planning for next year!  
We also ran our first Women's History Walking Tour around Bournville last week. We thoroughly enjoyed sharing untold stories about some of the amazing women who lived and worked in Bournville, so thank you to everyone who came along. If you are interested in attending one of these walks in the future please email [email protected]org.uk with your contact details. 
But sharing women's history doesn't stop in March! Our interactive map of women's history will remain on our website for you to view. Click here if you want to view it now. We will continue adding to this map, so if you know of a brilliant women connected to Bournville whose story should be shared, please email [email protected]. 
You can also explore Bournville in a new way with our Women's History Walking Trail. You can download it here or you can pick up a copy from Selly Manor Museum. We are currently open Tuesday-Friday 2pm-5pm.
We hope you have enjoyed learning more about women's history this month. We are committed to sharing the stories and narratives of those traditionally marginalised in society. If you would like to keep up to date with all of our activities and events, you can join our E-Newsletter here.