Bournville in Remembrance

Share
You are here:
News /
Bournville in Remembrance
This November, we wanted to mark Remembrance in a bigger way than before. Our Museum Assistant, Holly Martin, put together an exhibition for us on Bournville during the wars which was on display in Minworth Greeves. Due to our busy school schedule, we realise that not as many people as we would have liked got to see it. So we have decided to put it on here as well, for more people to see. 
We hope that in the future we will be able to expand upon this and create a bigger exhibition. We would love to hear any stories that you have (or your family has) about living in Bournville during either of the wars. If you would feel comfortable sharing them with us, with the aim we could use these in a future exhibition, please do get in touch with one of our team or email [email protected] . 
Bournville in Remebrance:
George Cadbury:
Iris Carrington sums up best the difficult decision George Cadbury was faced with in 1914 in her book, Cadbury's Angels.
George hated war, on religious and humane grounds, but also on the front that he saw it to be a terrible waste.
Quaker beliefs (or the Religious Society of Friends as they were often known) were that war was against the wishes and nature of God. They held a committment to peace. George, being a Quaker, subscribed to these beliefs. 
These beliefs did allow for people to follow their own consciences too, which is exactly what George did. He still hated war and everything it represented, but he saw the circumstances of 1914 to be such a clear issue between right and wrong that he felt he had to help in some way.
This was not a decision he made lightly. 
---
Gifts for the troops:
Books were sent out as gifts to the soldiers by the dept. of Education. Men were invited to send their preferences of author and subject so these could be sent to them.The favourite fiction writers of the men were: Rider Haggard, Arthur Conan Doyle, Jack London, Baroness Orzey, Wm. Le Queux, and Charles Dickens. 
Twice a year the Cadbury firm also sent out 1lb of chocolate to its employees in service. 
Nearly 20,000 parcels were sent out.
40,000 individual books sent.
8,000 parcels containing books and chocolate were sent.
8,000 letters of acknowledgement received.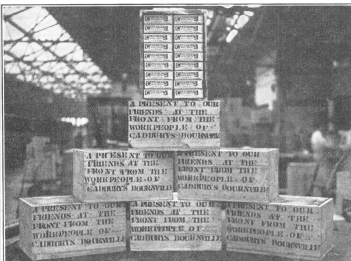 Boxes of gifts for the troops. 
---
The Bournville Hospitals:
Because of the great need of hospitals during the war, George Cadbury allowed 'The Beeches' to beused rent free as a hospital for the wounded returning from the front. Fircroft Working Mens' College was also given for the same purpose. (1915)

These hospitals focused on caring for wounded soldiers sent home from the front.

The people of Bournville Works' Organisation ran a weekly collection to raise money for these two hosptials.

These hopsitals were under the management ofthe Work's Hospital Committee. The Beeches wastaken over by the Red Cross in March 1918 but Fircroft remained with the committee until the end. In September 1918 it's main purpose changed to caring for discharged disabled soldiers andsailors. This contiuned until 1919 when the college resumed as normal.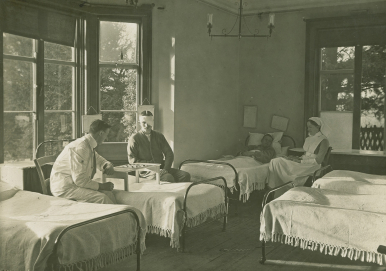 Men recovering at one of the Bournville Hospitals.
---
The Bournville Girls' Efforts - Nurses:
The Bournville Nursing Division was set up early during the first world war after desire to help was expressed by many of the Bournvillegirls and women.

Their original main duty was to make surgical dressings due to there being such a shortage of them. They also made swabs and pneumonia jackets.

The nurses divison took on extra shifts at The Beeches and Fircroft to help care for the soldiers sent there. They also voluntarily took on the washing and laundry work for the soldier-patients at these two hospitals.
During the influenza epidemic the nursing division provided essential help in Bournville and Selly Oak.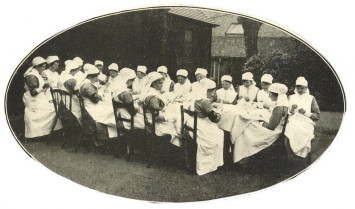 The Bournville Nursing Division. 
---
The Bournville Girls': 
The Girls' Wage Office worked throughout the war to supply all the office men from Bournville with knitted scarves, hats, socks and any other knitted items they may need. They always sent their parcels with a small amount of chocolate inside.

The women packed their gifts to the troops and ensured that these little parts of Bournville would arrive well protected to the men serving overseas.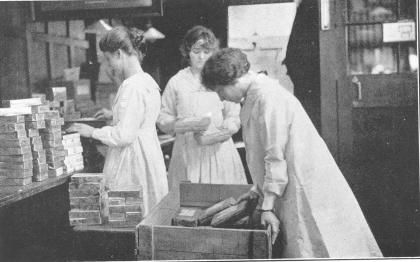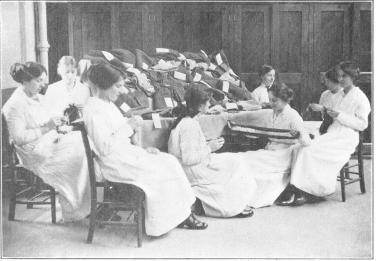 Bournville Girls packing boxes of gifts for the troops.                                  Knitting for the troops. 
---
George Cadbury's Welcome Home speech to his workers:
"While we are rejoicing we cannot forget the millions who will be mourning. Seven million men are said to have been killed in the war, and this home to us the awful distress and misery brought to wives and children who have lost husband and fathers. We are thankful the great calamity is over, but we now have before us a stupendous problem to face. Other disasters like the war have over taken the world, and sometimes in the end the human race has taken a step forward. May that be so after the tragedy from which we are emerging, and may we all do our share towards directing that movement forward and not backward.

May we all do our utmost in our hearths and homes to encourage that peaceful spirit which will make war impossible and hasten the coming of the day when that prophecy will be fulfilled: 'They shall beat their swords into ploughshares and their spears into pruning hooks; nation shall not lift up sword against nation, neither shall they learn war anymore'."
---
Bournville Employees Extra Facts:
2,148 men employed in Bournville joined His Majesty's Forces to fight.
218 died in action or while on active service.
By January 1920- 1,511 men had returned to work at Bournville. 
---
Bournville Utilities (World War II):
Bournville Utilities Limited was set up in 1940 with the aim to utilise there sources, space and abilities at the factory during another great time of need. It was aiming to have a direct contribution to the country's military needs.

At it's height, 2,000 people were employed by Bournville Utilities. The directors of this company were Mr Laurence Cadbury, Mr C. W. Gillett and Mr W. N. Hallett.
---
The Factory in World War II:
In an attempt to hide it from enemy bombers, the factory was covered in a camouflage netting.

The factory could have been a target due to the important work being done there for the war effort.

The biggest job undertaken at the Cadbury factory was assembling Service Respirators and Canisters. 5,117,039 Service Respirators and 6,335,454 Canisters were assembled. Luckily, gas attacks were not used in the Second World War.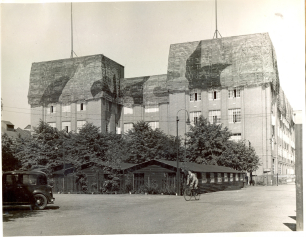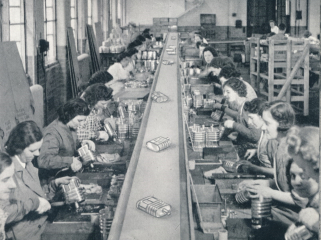 The Factory covered in camouflage.                             Filling up respirators. 
---
All archival images were provided by the Mondelez Cadbury archive.