Share
You are here:
News /
Object of the Month
Object of the month: September 2021: Hatchments
The first thing our visitors see when entering Minworth Greaves (besides our staff at the ticket desk) are our three hatchments, which hang proudly along the back wall.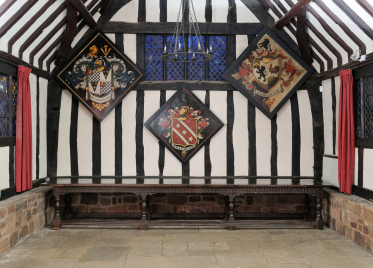 Not to be mistaken with coats of arms, hatchments were made after the death of a member of the gentry classes. This has led to them often being referred to as 'funeral hatchments'. While they do display the coat of arms of the deceased upon them, their specific shape and the imagery used upon them sets them apart from traditional crests.
It is believed that the tradition of hatchments started in the 'Low Countries' (present day Belgium, Luxembourg and the Netherlands) around 1600. Their usage spread to Britain at some point during the later 17th Century. The primary purpose of these large decorative objects was to show off a person's achievements after they had died.
The most popular shape for a hatchment to be was the diamond shape, as you can see in these examples.  Earlier examples have been found of square and rectangle shapes but these were not common. Hatchments are usually made by painting onto canvas, which is encased in a wooden frame.  The traditional background for a hatchment to have is black, the colour of death and mourning. But this was not always the case, as one of our hatchments will show.
Hatchments would hang over the door of the house owned by the deceased until their burial service. At this point the hatchment would then be moved into their local church, or church at which they were being buried.
Our Hatchments: Their Stories:
Hatchment of Thomas Gorst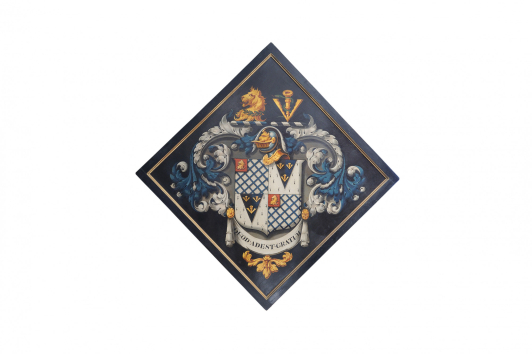 Our first hatchment was made for Thomas Gorst. Like with the other two hatchments in our collection, this person has no link to Selly Manor. His hatchment, again just like the other two, was acquired by Laurence Cadbury and brought to Selly Manor to be a part of our collection. He bought them for £10 each from Oliver Baker, a close friend of his and an avid collector and antiques dealer.
Thomas Gorst was the son of Chadwick Gorst and Mary Lowndes. It seems that Thomas took his mother's surname at some point in order to qualify for an inheritance. The imagery seen on this hatchment came from both the Gorst and Lowndes family heraldry. The motto at the bottom: "Quod adest Gratum" means "that gives me comfort".
Not much else is known about Thomas. We can't find any marriage records for him, and the fact it is his family crest alone on his hatchment could suggest he was still a bachelor when he died. We know that he died in 1853 but his life remains a mystery.
Hatchment of Charles Scarisbrick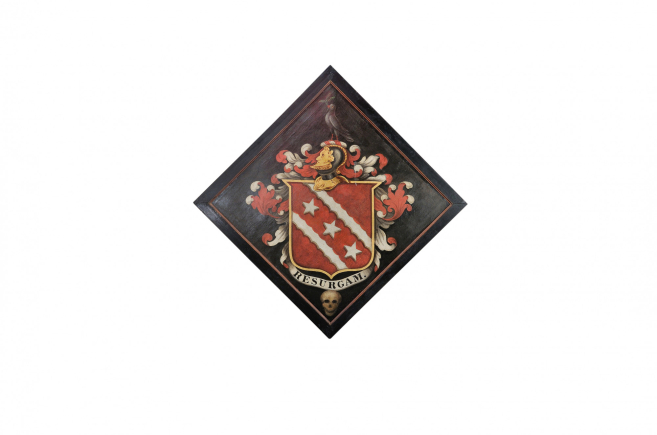 This hatchment was made for the wealthy gentleman, Charles Scarisbrick, who died in 1860. He has been described as the "richest commoner of Lancashire" as he is said to have left a £3 million fortune after his death. He was the patron of Scarisbrick Hall, a large estate that came to him after legal battles within his own family.
At the top of this hatchment there stands a black dove, holding what appears to be a branch of some kind in its beak. The black dove may be interpreted as a symbol for death here, a juxtaposition from the normal white dove symbolising peace. However it could also be seen as a mourning dove, which are typically dark grey/brown in colour and emit a melancholic call which is supposed to evoke sadness and grief. Some have suggested the mourning dove could stand as a symbol of renewal. We have no definite answer as to what the black dove at the top of this hatchment was intended to stand for. It is certainly an interesting image to discuss though.
The base of this hatchment features a skull and the motto "Resurgam", which was a popular one seen on many hatchments. It means "I will arise". The skull and this motto can both be seen as memento mori symbols. Memento mori is an artistic or symbolic reminder of the inevitability of death. The skull is a hugely popular one for its obvious connection to death and decay. But this motto links to the rebirth or spiritual afterlife that many people (and some still do) believed in. It fit well with religious beliefs of the time and became a fitting tribute to the end of someone's mortal life, and the hope of a celestial afterlife.
The skull was also used on hatchments to signify that this death represented the 'end of a line'. The end of a family line. The skull would be called a 'death's head' if used for this reason. In practice skulls were often used regardless of whether or not that particular death ended a family line or not. But it is another interesting rule of hatchments.
Hatchment of Peter Du Cane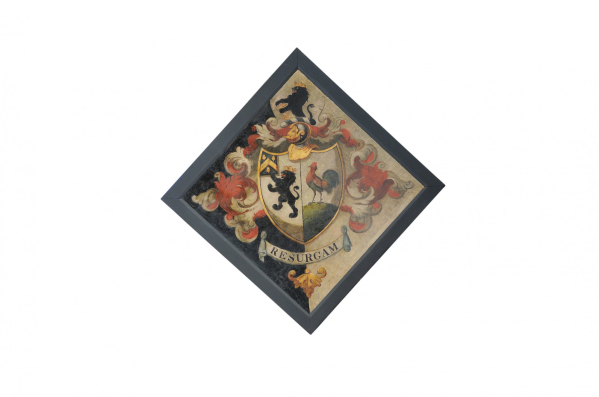 This hatchment was made for Peter Du Cane of Braxted, in Essex, another wealthy gentleman. The coat of arms on this hatchment is split, with the left hand side displaying the shield of Du Cane, and the right showing that of his wife's. The cockerel on the right was part of her family's coat of arms and represented her; Phoebe-Philips Tredcroft of Sussex.
The background of this hatchment is different to our other examples. While the other examples have a solid black background, this one is split so half is black and half is white. This signifies that Du Cane was survived by his wife, hence why it is the side behind her crest that is white. Since this split appears on neither of our other crests it has been suggested that they could have still been bachelors when they died.
Even though these people were not directly connected to Selly Manor, their memorial hatchments are now at home in Minworth Greaves. And I think you'll agree that they certainly look good in their current and (we hope) forever home.
-Holly Martin, Museum Assistant.