Digital Trail: Quaker Meeting House

Share
You are here:
News /
Digital Trail: Quaker Meeting House
---
The Quaker Meeting House was built in 1905 and was designed by William Alexander Harvey, an influential architect on the Bournville estate.
.
The building is unusually ornate for a Quaker Meeting House, which are usually characterised by simple designs, reflecting the type of worship that takes place in them. George Cadbury paid for the Meeting House in Bournville and intended it to be used by the community (many of whom were not Quakers), so it was designed to look familiar to church-goers and has some features that are not typical in a Meeting House. Its design was copied from the First Church of Christ Scientist in Manchester. 
.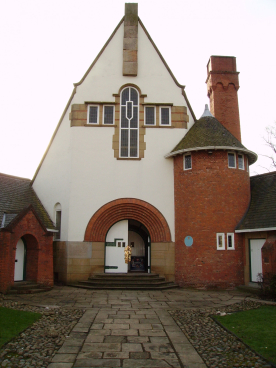 The image above is of the First Church of Christ Scientist, Manchester and below is the Quaker Meeting House in Bournville
.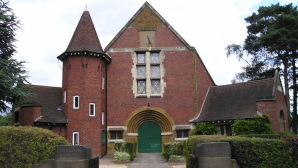 .
The Meeting House was gifted an organ in 1915 by George and Elizabeth Cadbury and is the only Meeting House in the country to have one! After its installation the Meeting House was sometimes referred to as the 'Quaker Cathedral'. 
.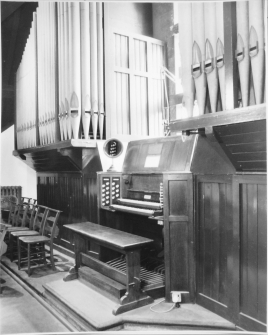 .
This building is not just significant as a spiritual centre for local Quakers but it is also home to George and Elizabeth Cadbury's ashes. A bust of George Cadbury was installed in an alcove in 1924 and beneath it are the couples ashes. From the bust's vantage point, it looks as if George Cadbury is watching over the village he created. 
.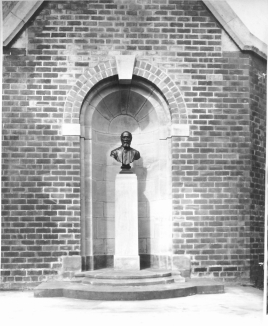 Bust of George Cadbury outside the Quaker Meeting House
.
This building is also special to the Bournville community because on its grounds is the Bournville Christmas Tree. This beloved tree is an Atlas Cedar and was planted in 1948 to commemorate Dame Elizabeth Cadbury's 90th birthday. Each year the tree is covered in Christmas lights and switched on at the Christmas Festival. 
.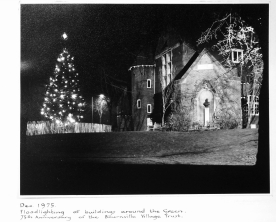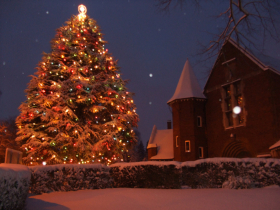 Click on the image above to experience the magic of the Christmas Tree Lights switch on 
.
The Quaker Meeting House is still an active part of the community and regularly gets involved with important causes. This September they are campaigning to raise awareness of climate change. 
.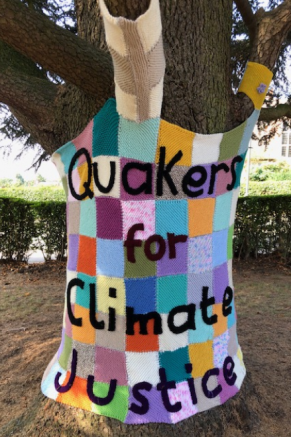 'Bournville Quakers have made the tree cosy to show that we care about those who are suffering as a result of climate change. Please take photos of it and share them on social media.  Let's make sure that world leaders at COP 26 in November make radical decisions to limit the harm that is being done to our planet.'
.
We hope you are enjoying this digital trail created for Bournville Heritage Open Day 2021. To view the other locations please click here.