Share
You are here:
News /
Tudor Architecture
When you think of Tudor Architecture, one of the first things that comes to mind will be timber beams, but did you know that the use of brick is a primary feature that sets apart Tudor buildings from their precursors?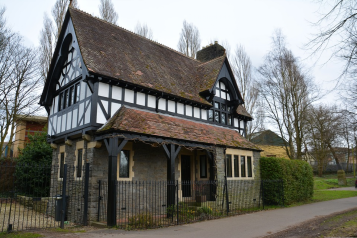 Both Cardinal Wolsey and Henry VIII used bricks in the building of their palaces, such as Bridewell Palace. We can see the use of darkened bricks and the English Cross-bond to create visual interest and patterns within the walls in particularly important buildings.
Despite this, timber framed buildings were also very common, especially in the timber districts of Lancashire, Cheshire and Warwickshire and amongst the common classes. Both Selly Manor and Minworth Greaves are great examples of timber framed buildings. Where funds were limited, materials were usually vernacular, meaning they can be found in close proximity to the site of the building to save on expensive transportation costs for non-local materials. In many surviving Tudor buildings, a combination of both brick and timber can be observed, with the fist half of the building being made of brick then the first floor jets out and is made of timber.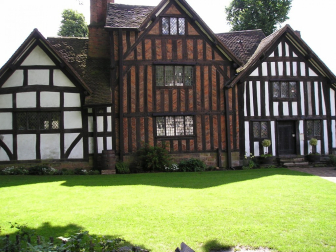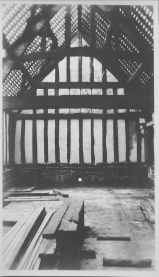 After the basic structure was erected, timber framed buildings would be filled in with wattle and daub and then limewashed to create the famous black and white colour palette. Most timber framed buildings were also accompanied by a steeply pitched roof (usually thatched, though not always). Tall, narrow doorways and windows were common to maximize space in buildings with a small footprint, and floors were commonly paved with flagstone.
Interestingly, the Dissolution of the Monasteries actually had a significant impact on buildings in the Tudor era. As monasteries were destroyed, large expanses of land became available for cottages and small farms to be built on by gentry for their tenant farmers. Thus, there was more of an emphasis on practical and domestic buildings rather than devotional buildings, and buildings shrank and became more intimate.
Elements of Tudor architecture have never really fallen out of style, with some interesting examples cropping up in the Victorian era. One instance of this is Cragside, where the beam detailing has an undeniably Tudor flavour. Today we can still see the Tudor style in new-build homes, especially in the United States.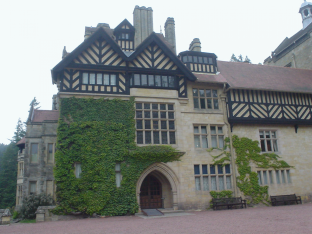 ~ Macey, Volunteer