Share
You are here:
News /
Book Now
Selly Manor Museum is now open to the public and we are delighted to be offering a warm welcome to our visitors - we've really missed you! The experience will be a little different from usual and we want to reassure you that we have taken measures to ensure the museum is clean and safe to visit. We also would like you to know what you can expect when you visit.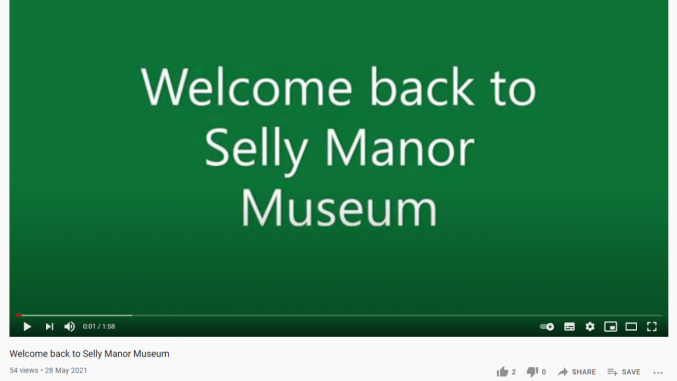 ---
Booking Information
The BOOK NOW button below is available for general admission. Pre-booking is strongly recommended. We will only accept visitors without a pre-booking if there are time slots available and this cannot be guaranteed. 
Please note that availability between 15th and 25th June 2021 is limited due to school visit bookings and events. Future booking dates will become available soon.
If you are a Bournville Village Trust Resident you are entitled to free entry, with proof of address. To book these tickets please select 'Bournville Village Trust Resident' only and do not select adult or child options during the online booking.
Please read this page to ensure you fully understand our procedures for visiting and to help keep everyone safe.
Please CLICK on the button below to go to our online booking system.
---
Keeping Safe
We promise to help keep you safe and have introduced the following measures:
One way systems throughout the site
Providing a warm welcome at a distance
Restricting visitor numbers
Providing hand sanitiser stations
Additional cleaning
All visitors will be required to submit their name and contact details for Track and Trace
---
Opening and How to Book
All visitors (including those entitled to free entry) must book online in advance. Our admission prices are:
Adults
£4
Children (aged 4 - 16)
£2

Family
(up to 2 adults and 3 children)

£12
Children aged 3 and under
FREE
Bournville Village Trust Residents
(proof of address required)
FREE
These admission charges may vary for events. Each time slot will be separated by 15 minutes to allow for social distancing. We will not mix those time slots, so if you book a time there will be no other visitors arriving at that time. You will be able to book for a maximum of 6 people for your time slot. You MUST arrive within 5 minutes of your stated time or your ticket will be invalid and we may refuse entry.
---
What to Expect
When you arrive you will be greeted by our friendly and knowledgeable staff. Our ticket desk is stationed in the medieval hall of Minworth Greaves where we have a screen to aid social distancing. 
You will also be able to visit the manor itself with its homely warm feel. See the house brought to life with the beautiful Laurence Cadbury Collection of early furniture and domestic objects. You can talk to our friendly staff or explore in your own time.
For children and families we will have a Family Trail available so you can discover even more. You can also take part in our Butterfly Trail in the garden which is lovely to stroll around and see the autumn colours.
Normally we have a range of dressing up, armour to try on and games to play. At present only a selection of these items will be available and only with strict cleaning and hand sanitising. We hope to re-introduce all of our hands-on resources again soon.
---
Frequently Asked Questions
How will you keep me safe?
We have introduced timed ticketing to ensure social distancing. Time slots will only be released to one group at a time. There is a one way system throughout the site and social distancing markers. These are all designed to keep visitors, volunteers and staff safe.
There is a regular cleaning regime throughout the day. Hand sanitiser stations will be provided at entrances to the buildings. We have removed our hands-on exhibits.
Do I need to wear a face covering?
In line with government guidelines for museums, face coverings will be compulsory in our indoor areas, unless you are excempt.
Do I need to book in advance?
To comply with government guidelines and social distancing it is strongly advised that you book online in advance.
How do I book?
Just go to our booking page (the link is at the top of this page), select a time slot for your group and complete the transaction. Please book for everyone in the party, even if they are free. This is so we can monitor numbers on site.
Can I visit with more than one house / bubble?
As per government guidelines, we take bookings for up to 6 people or 2 different household.
I am bringing a child under 4 - do they need a ticket?
Yes, so we can manage visitor numbers and ensure social distancing please book a free ticket for children aged 3 and under.
Do I need to print a ticket?
You don't need to print anything off - just show us your booking on your mobile phone or tablet when you arrive (please be aware the connection at Selly Manor is not good and we recommend you save the booking confirmation to your device). Or, provide us with your booking number and surname.
I am a Bournville Village Trust Resident - do I need to book?
Yes, please book online and select 'Local Resident' for a free ticket, and bring along proof of address or a Selly Manor Residents Pass to gain your free entry. We will accept a bill, bank statement, official document or driving license. Please note that for some events BVT Residents are not entitled to free entry, if you'd like to check just see the Events page or send us a message using the contact form below.
Do I need to provide contact details?
Under government guidance museums are obliged to comply with the Test and Trace system. You will have the option to scan the NHS Test and Trace QR code on arrival, or the name and contact details of all people visiting will be taken. These contact details will only be provided to the government's Test and Trace system if requested and will be used for no other purpose. Data will be retained in accordance with GDPR.
Can I cancel my booking?
We regret we are unable to provide refunds and bookings are non-transferable. 
Are there toilets?
Our toilets will be open. There will be restricted access to ensure social distancing, with only 1 male, 1 female and 1 accessible toilet available. We also have a thorough and regular cleaning regime throughout the day.
I have accessibility requirements - should I visit?
Please be aware that the buildings have steep stairs, uneven floors and restricted lighting. If you would like to know more about the museum's accessibility please see our guide on the Your visit page or contact us to discuss your needs on 0121 472 0199 or by completing the contact form at the bottom of this page - our team will be more than happy to help.
How long will a visit take?
If you visit the exhibition, manor house, garden and take part in our trails then we would suggest it would take at least an hour. You are welcome to stay as long as you like.
What times are you open?
We are open Tuesday - Sunday, and closed on Mondays. We open at 10am and release ticket time slots at 15 minute intervals. We close between 12.30pm and 1.30pm for lunch and to clean the site. Our last ticket time slot arrival is 3.30pm and we close the site to all visitors at 4.30pm. This may vary for special events.
Is there a cafe?
We do not have a cafe on site. Close to Selly Manor Museum there are a number of options for Eating & drinking - we recommend you check opening times and services in advance.
Can I bring a picnic?
You are welcome to bring a picnic and if there is space you can sit in our garden as we have plenty of benches. If the garden becomes busy we may ask you to take your picnic across the road to the lovely Bournville village green where there is lots of space and seating. We will also ask you to take your rubbish home with you.
Is there anything for children to do?
We have a Family Trail when you visit the manor house and a special Bee Trail in the garden too. Plus most children love to find the Tudor loo, see the Priest Hole and explore the manor.
Is there a gift shop?
We have a small gift shop selling souvenirs. We ask that all transactions are made with contactless payment.