Share
You are here:
News /
Time Traveller's Watch
Travel through history with this awesome Time Traveller's Watch! Which time period would you choose to visit? Fancy meeting Henry VIII and going hunting? How about sailing on a Viking ship or even watching a T-Rex roam the earth (from behind a large boulder!)? The choices are immense - and would make a great adventure this half term.
Use things you can find at home to create your Time Traveller Watch. We recommend you ask an adult for help, and always be careful with scissors.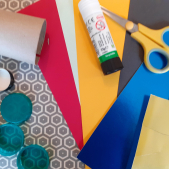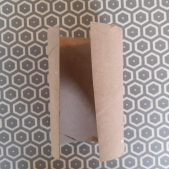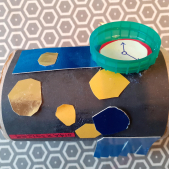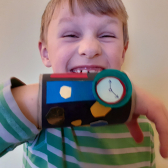 1. Get the things you'll need ready first. You will need a toilet roll, some coloured paper or card (or use old magazines), glue, scissors and some plastic bottle tops.
2. Carefully cut a slit along the toilet roll. The toilet roll will be the strap for your watch, and will wrap around your wrist. If you don't have a toilet roll, then you could use part of a cereal box rolled up.
3. Take a piece of paper of card and cut it so it is the same size as your toilet roll. Glue this on for a coloured base layer.
4. Now it's time to get creative! Cut out pieces of card or paper into button shapes (shiny stuff is good) and glue these on. Milk bottle tops make great watches, and you could draw dials, numbers and charts to make it even better.
5. Now you are ready for a time traveller adventure!
A massive thank you Isaac age 7 for all his help in making this Time Traveller's Watch super cool!
---
We've got lots of great ideas to keep you busy this half term. Take a look at our Time Traveller Adventures event page for all the links, and we'll be posting daily updates on our Facebook page too. 

please donate
We hope you have enjoyed this activity and value the work of Selly Manor Museum.
If you would like to support the museum during these difficult times donations are very welcome.
Thank you - we hope to welcome you back soon.