Share
You are here:
News /
Thanks Gillian!
Just before Christmas Gillian Ellis, Heritage Manager at Selly Manor Museum and Bournville Village Trust, moved on to new challenges and adventures after 23 years of dedicated service. We are sad to see her go as she has been such a wonderful colleague and friend and we wanted to recognise everything she has achieved over all those years. We thought it apt to share with you some of Gillian's memories in this blog.
On her last day we sat down with Gillian to remember her time at Selly Manor and to reflect on what she most loves about the museum. Gillian was always so generous in supporting her team, welcoming new (and sometimes slightly bonkers) ideas, ensuring we learnt from our mistakes and worked hard to make Selly Manor Museum a special place to visit – and a place that offers inspiring opportunities to learn and engage with the past.
During her time, Gillian has helped to create a flourishing education programme that welcomes around 6000 school children a year to the site. The buildings and collection provide a unique opportunity for children and teachers to learn about life in the past, whether that be the Tudor period, George Cadbury's garden village of Bournville or even the Great Fire of London. However the real strength of what the museum delivers is created by the talented, knowledgeable and passionate staff who create such an enjoyable experience for children. Gillian's guided tours were always full of brilliant facts, hands-on activities and lots of laughter. During Gillian's 23 years at the museum we estimate Gillian personally delivered guided tours to well over 20,000 children – one of her favourite memories is the regular question she received as to whether she was a Tudor herself!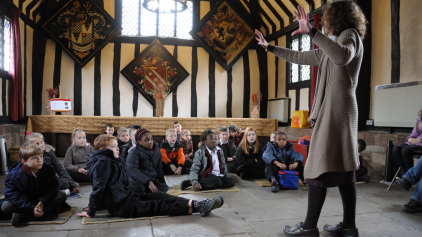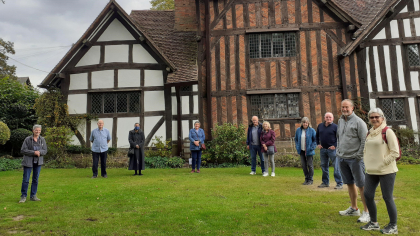 Left: Gillian energetically teaching children on a school visit.
Right: Conducting a socially distant guided tour in September 2020.
As well as children, Gillian worked tirelessly to conduct tours of Bournville to hundreds of adult groups. They didn't think she was a Tudor but she did often get asked if she was related to Julie Walters! Gillian also visited countless groups in their local village or church halls to tell them all about the special heritage of the Cadbury family, and expertly fielded their complicated questions or patiently listened to the memories of ex-Cadbury workers and their families.
Perhaps Gillian's most important achievement is maintaining the preservation and care of such important historic assets. Managing two ancient buildings is quite a challenge and Gillian worked to not only protect the fabric of the buildings for generations to come but improve the site. Around 15 years ago Gillian oversaw a significant change to the grounds with new paths improving accessibility and a complete garden redesign which transformed the visitor experience. Many people don't realise but the site Selly Manor was reconstructed on was originally a pond. For many years the cellars were flooded regularly and Gillian managed a bold project to have the cellars tanked to protect the building and create an onsite collection store. In addition Gillian raised funds to have timbers repairs, replaced weather-worn panels in the buildings, fix damage flooring and much much more - the legacy of this will last for generations.
For many visitors, their visits to Selly Manor are part of the regular events held at the museum. Over the years Gillian has loved seeing families and children grow up as they came for each holiday activity, and there is often a sense that our visitors see the museum and its heritage as theirs, and something they want to be a part of and share with others. And whilst Gillian has always enjoyed seeing the children getting creative, taking part in trails and having such a good time, she won't miss the hours of tidying up and cleaning afterwards! She thinks her favourite event is our occasional farm days which sees the site come alive with the sites, noise and smells of the farmyard – and we won't forget the escapee pig episode any time soon.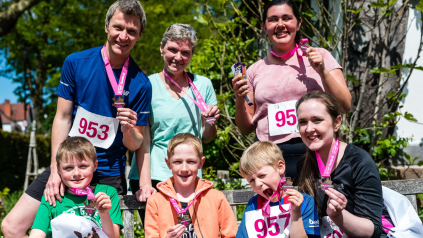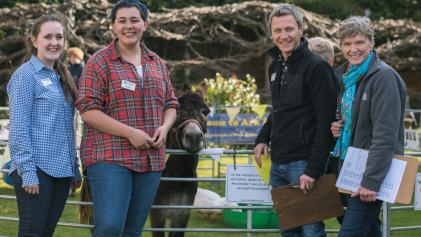 Gillian and the Team - having completed the Chocolate 5K (left)
and at the Farm Day 2019 (right).
I'm sure Gillian will always have a fondness for Selly Manor. To all of us that work here there is something homely and welcoming about the place but it is also so different from anywhere else and has a particular quirkiness. Gillian's favourite room is the Solar. Entered either through a tiny doorway or by climbing a steep exterior staircase. Gillian most admires the structure of the building here, where you get a sense of the skill involved in how the massive timbers were assembled and where every beam has a purpose and where the craftsman's touch is revealed in the carpenter's marks.
Gillian's favourite object in the collection is a fairly unremarkable Windsor chair that sits in the kitchen fireplace. Like much the furniture at the museum, it was once well used and is nothing grand or spectacular but its combination of form and function sums up the place. As you explore this house it reveals glimpses of history at every turn. Gillian loves the views of the medieval Minworth Greaves from the windows of Selly Manor and the feeling of peering from high up as you climb the attic stairs.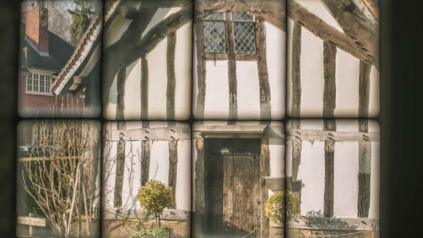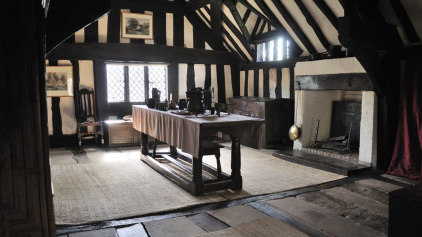 Some of Gillian's favourite things - the view of Minworth Greaves
from Selly Manor (left) and the Solar bedroom with its huge timbers (right).
You can never forget that Selly Manor was once someone's home, and Gillian's most appreciated item from the museum's archive is a remarkable photograph of the building in its original location. The ruinous and dilapidated building rises large in the image but the detail of a lady with a white bonnet who is working in the garden emphasises its real-life history. The lady is Anne Williams who lived at the house along with over 20 other people in the late 19th century, and it is connections like these that bring the history of the house to life.
Another document that Gillian enjoys so much is the Suggested Rules of Health. Produced by the Cadburys to welcome new residents to their garden village it includes advice on how best to live your life with the suggestion that "If you follow these rules you will be healthier and more cheerful. You will probably live ten years longer than those who ignore them". It contains gems such as "Furnish your sleeping apartments with single beds; double beds are now little used in civilised countries" and "Anger and worry will wear you out much more rapidly than hard work. Cultivate a cheerful and thankful spirit".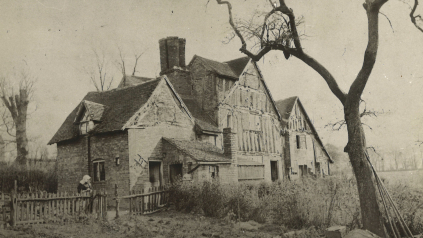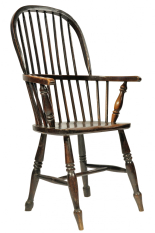 Left: Ann Williams can be seen stood alongside the fence in this archival image of Selly Manor.
Right: Gillian's favourite object in the collection - a bow-backed Windsor armchair from the mid-19th Century,
perhaps the sort Mrs Williams would have used herself.
As you can see there is much that Gillian will miss about Selly Manor and plenty to be proud of too. When asked about what she is most proud of, Gillian says it is her stubbornness and tenacity to keep Selly Manor going despite the many challenges that we face – and this last year in particular demonstrates this brilliantly as we faced lockdown, closure, cancellations followed by a hugely successful reopening, changing how we worked and engaging with people in new ways.
Gillian is also incredible proud of her team. She has nurtured our talents, played to our strengths and leaves with the confidence that the museum and Bournville's heritage remain in safe hands. We owe so much to her for all the opportunities and encouragement she has given us. There is so much more we could say but hopefully this has given you a flavour of Gillian's time at Selly Manor. We will miss her lots and wish her all of our very best wishes for the future. Thank you Gillian!