Share
You are here:
News /
A look back at 2020
As with everyone the last 12 months have brought a lot of change for the Selly Manor team! In some ways it feels like we haven't done much this year as we have been closed for over 4 months, but when we reflected back on 2020, we realised we had accomplished a lot! It's not always been easy but we have grown to become a stronger and more adaptable team.

As we were closed over some of our busiest times of the year and could not put on many of our much loved events in 2020, we were really pleased that we have managed to take 27 school groups on tours, 5 adult groups, put on 10 events and hosted 7 beautiful weddings.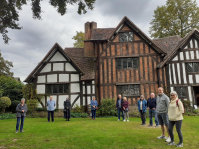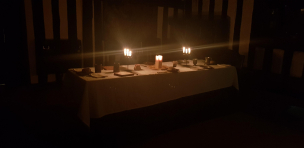 Bournville Walking Tour                       Candlelit Tour                                                                
We have also put on 4 brand new exhibitions, with the Bournville Society's Sweet Life of Bournville exhibition getting national coverage with the BBC. It was also the first time we had put on an exhibition for Black History Month (African Visitors to Bournville) and it was a new experience for us to put this online as well as putting on a physical exhibition. We expanded our digital content in another way through the Virtual Museum page on our website which we created during the first lockdown. This page hosts many of the digital resources we have created this year, such as virtual tours of Selly Manor and many blogs on the history of Selly Manor and Bournville. Additionally, we launched our first online ticketing system for general museum admission which has been fantastic and we are in the process of setting up an online shop.
We have welcomed new volunteers and work experience students this year and were thrilled to win an award for Student Placement Host of the Year with Birmingham University. We have had the privilege to work with new groups as well previous partners, such as Archbishop Ilsley Catholic School who participated in our first ever Kids in Museum Takeover Day.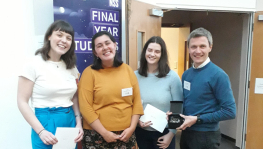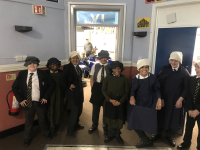 Not to mention we have taken advantage of the times when we have been shut to the public to catch up on some much needed archiving, collections management, planning for the future, as well the dreaded job of tidying our cellar and garage! 
We have certainly learnt a lot this year and are proud of how the team has adapted to constantly changing circumstances. We would also like to give a big shout out to the lovely community who have supported us, either in person or online, this year – it has made all the hard work worth it!