Share
You are here:
News /
Minworth Greaves
Minworth Greaves - virtual tour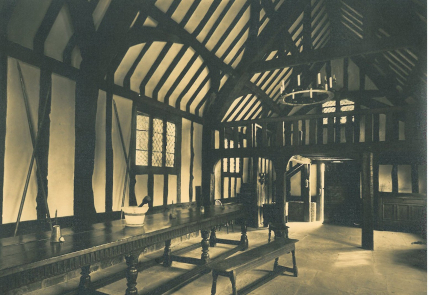 As you step through the gates of Selly Manor Museum, you are immediately confronted with two black and white timbered buildings, one on your left and one on your right. Head towards the bigger building, on your left, which has a sign saying 'tickets'. You push the heavy wooden door, which groans and scrapes across the stone floor as you step into the dark interior of the ticket office. As your eyes slowly adjust you see a magnificent long timbered room, with high ceilings, dark chandeliers and a huge wooden table running along the back wall. This is Minworth Greaves.
Visitors to our museum often rush straight to Selly Manor, neglecting to appreciate the beauty and history of Minworth Greaves. Although mostly used as an event space and as a classroom for visiting school children, Minworth Greaves also has an interesting history and some wonderful items of our collection are housed in it.
Minworth Greaves is a 700 year old medieval hall house and like Selly Manor, it was not always on this site. Minworth Greaves was originally 14 miles away in Minworth, Warwickshire. When George Cadbury was organising the re-building of Selly Manor, he sent his architect, William Harvey, into the local countryside to salvage any glass, wood and bricks from derelict old buildings which could be used in the re-build. During the search, Harvey discovered Minworth Greaves. The building looked very different to how it does now, but when Harvey saw it, he probably realised that the frame of the building was very old. Later in 1914, Harvey purchased the building from the Tame and Rea Drainage Board for £25. In 1915 Harvey did a very rough sketch of the building and then it was dismantled and brought to Bournville. Although the building was surveyed, dismantled and stored, it was not re-assembled for another 15 years.  This was due to the earliest parts of the project taking place during World War One, combined with the focus on re-building Selly Manor.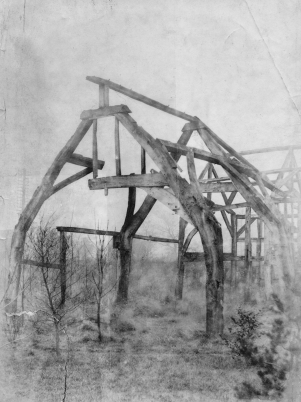 Minworth Greaves on its original site 
Minworth Greaves was finally rebuilt in 1932, but with some changes. As Minworth Greaves would be placed next to Selly Manor, the decision was made to rebuild it as a smaller building so as to not overwhelm Selly Manor. A gallery was also added to this building, which many medieval hall houses had as sleeping quarters. Other changes included, putting glass in the windows, putting in chandeliers for lighting and putting stone on the floor. In the medieval period, people did not have glass in their windows as it was too expensive. Windows were originally known as wind eyes, which is where the word windows comes from. They would have been slits in the walls to allow the house to be aired and to let some light in. When the weather was poor, shutters would have been used to keep out the wind and rain. Minworth Greaves would also have had a simple earth floor which was beaten down until it was flat, as stone was again too expensive for ordinary medieval people. However as earth floors would get wet and muddy, animal blood was poured onto the floor and left to dry. When it hardened, it protected the earth floor.
The exact date of Minworth Greaves is not certain, but 'cruck' framed buildings (which Minworth Greaves is) are an ancient and very simple house type that was used extensively in England and Wales in the medieval period. They are distinctive because the 'crucks', or pieces of timber, form an upside down V-shape on the front and back of the building. These houses were usually made mostly out of oak wood as it was strong and plentiful, and used joints to hold everything together. Also known as 'hall houses', these were how most of the population lived until the mid 1500's. They were (usually) single storey buildings which opened at the roof and had a central hearth built into the floor. During this period there were no chimneys, so smoke rose from the fire through this space to be vented through a hole in the roof. The one room of the hall house was used for everything: as a kitchen, sleeping area, hall and shelter for animals in winter. The picture below shows what Minworth Greaves may have originally looked like.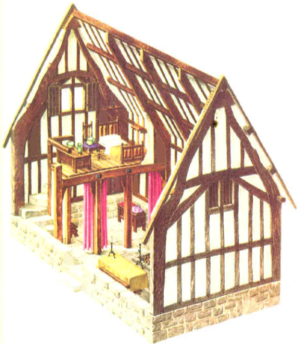 While Minworth Greaves may be spectacular to look at as a building, there are also some special objects in this room too:
Crooke Hall Table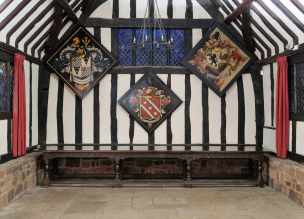 Perhaps the pride and joy of the collection, or at least the most impressive object, is the early 17th century oak dining table. Measuring a huge 18 feet long and resting on eight massive baluster-turned legs, this table takes centre stage in the medieval hall of Minworth Greaves.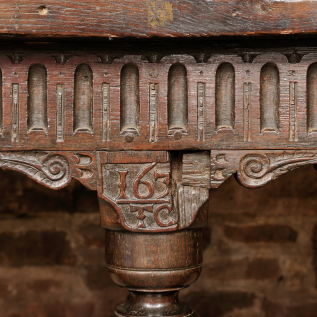 Above each of the central legs of the table are the initials 'PC' and 'TC', who are mostly likely Peter and and his son Thomas Catterall, who built and lived in Crook Hall, Wigan, where this table was found. Below the carving TC is the date 163-, but sadly the last digit is now missing. This is almost certainly the date this table was made. A further description on the table declares it to be An Arelome to this Hovs For Ever, an ironic statement since the table has been moved from its original home. Learn more about this special object here: Crook Hall Table.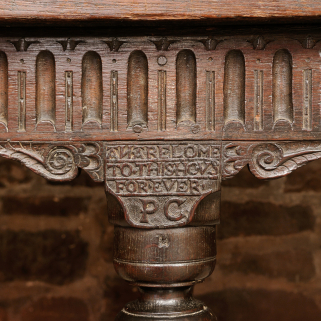 The Crook Hall table is unique but has strong similarities to other tables from the same area in South Lancashire, suggesting a regional taste or the same maker.
Hatchments
There are three hatchments hanging in Minworth Greaves on the far wall of the hall. Hatchments are usually comprised of a wooden frame and painted canvas, and depict heraldic emblems and inscriptions. They are mostly commonly found in the shape of a diamond. Hatchments were usually placed on display above the entrance to a deceased person's home as part of the funeral ritual for up to 12 months. They were then transferred to a local church where they acted as a memorial to an individual.
Laurence Cadbury bought the hatchments from antiques dealer Oliver Baker. Originally the hatchments may have belonged to Graham Baron Ash of Packwood House in Warwickshire. Oliver wrote to Laurence after they had been installed:
'They [the hatchments] have had an excellent effect on the room. It (the room) was before, rather naked and raw looking, and a somewhat chilly look about it. Now, when the door was opened I was agreeably astonished at the pleasant character of the first impression I got.'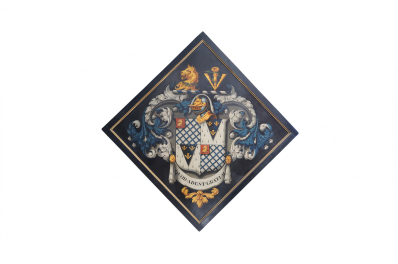 Each hatchment has its own story to tell. The first hatchment is thought to have belonged to Thomas Gorst. The motto states 'Quod adest Gratum' or 'that gives me comfort'.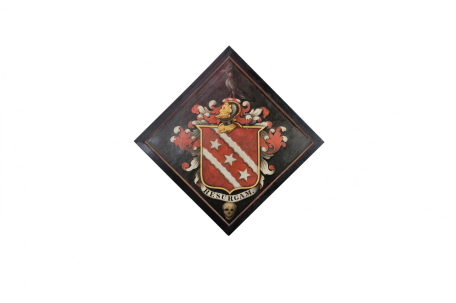 The second hatchment is for Charles Scarisbrick who died in 1860. Charles Scarisbrick was an extremely wealthy man, both from a large inheritance and from his development of coal mines.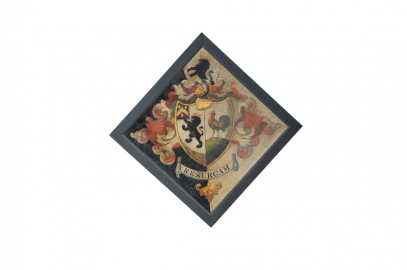 The final hatchment shows the heraldry of Peter Du Cane of Braxed, Essex. The arms of Peter Du Cane are shown on the left of the shield and his wife's are on the right. As his wife survived him, the background of the hatchment is white behind her arms and black behind his. The motto 'Resurgam' was a common one and meant 'I will arise.'
We hope you have enjoyed this virtual tour of Minworth Greaves. If you wish to continue the virtual tour of Selly Manor please go to The Virtual Museum.