Share
You are here:
News /
Object of the Month
Object of the Month - January 2020
This leather bottle, or costrel, was given to Selly Manor by Laurence Cadbury, who collected the majority of the objects on display at the museum. He acquired the costrel from Oliver Baker, an artist and antiques dealer based in Stratford-upon-Avon. Baker was a specialist in such objects and in 1927 wrote a book called Black Jacks and Leather Bottels. Black jacks are a type of leather jug whilst the types of bottle he referred to were just like this costrel you can see in the image above.
In his book Oliver Baker wrote about this particular bottle or costrel,
"A large bottle holding more than a gallon, which was discovered in Worcestershire by the well-known artist Mr F.D. Millet, has on one side a large fleur de lys in low relief, and is now the property of Mr Laurence Cadbury"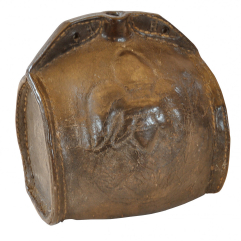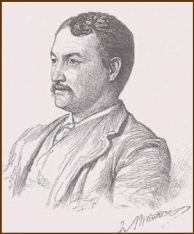 Left: the leather costrel at Selly Manor Museum.
Right: a former owner of the costrel, the artist F.D. Millet
According to a former curator at Selly Manor Museum, the costrel was found on a farm in Worcestershire in a cart, and was full of grease. As Baker's book confirms, the costrel was rescued and acquired by the artist. to F. D. Millet. Francis Davis Millet (1846 - 1912) was an American painter, sculptor and writer. Millet first worked in America before travelling to Europe, and eventually settled in Broadway in the Cotswolds. There he set up an artist's colony in the 1880s which included the well known painter John Singer Sargent and was visited by cultural figures such as Mark Twain, Edward Elgar, Oscar Wilde and Claude Monet. Whilst living in Broadway he presumably found the leather bottle and displayed it in his home, eventually selling it on Laurence Cadbury, via Oliver Baker.
On 10th April 1912, Millet boarded the Titanic at Cherbourg, France, bound for New York City. He was last seen helping women and children into lifeboats. His body was recovered after the sinking by the cable boat Mackay-Bennett and returned to Massachusetts, where he was buried.
At what point the leather costrel came to Laurence Cadbury we do not know. However it is a fine example of a leather bottle and such items were used for hundreds of years. In the medieval period a leather costrel was a standard piece of equipment provided to a working labourer. It was, of course, designed to carry liquid and many workers would have used them to take their supply of beer or water to their place of work for the day. To ensure they were waterproof they were usually lined with pitch. It is likely that costrels like this one were also made to be used by people travelling long distances, such as soldiers, sailors or pilgrims. Costrels were a popular choice amongst travellers in England throughout the 16th to 18th centuries, and the example in the Selly Manor collection was made later in that period. The costrels were strong and solid as they were made from ox-hide which was thick and rigid. They were also more practical than pottery which could break easily and pewter which was expensive. 
Originally this bottle would have had a long strap so that it could be carried around the owner's neck or on their shoulder. This strap would have been fixed to the bottle by threading it through two holes at the top, either side of the opening. Alongside both of these holes is a stamped letter H, which was probably a mark or initials representing the original owner - and which showed everyone else who it belonged to.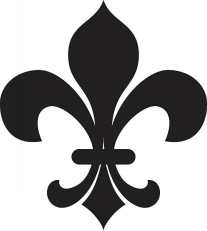 Above: the fleur de lys symbol which is featured on the front of the leather costrel
The leather costrel at Selly Manor has a striking decoration of the front of the barrel. It is known as a fleur de lys and depicts a stylised flower, fleur in French means flower and lys means lily. According to some historians the three leaves or petals represent the three medieval social classes; those who worked, those who fought and those who prayed. Although it is most associated with France, the fleur de lys has since medieval times been used across Europe by royal households, on coins, in religious images and in numerous other ways, including in this case on a fine leather bottle.
The costrel is on permanent display at Selly Manor Museum.
Daniel Callicott
Museum Manager, Selly Manor