Share
You are here:
News /
Historic Photographs
Over the past few weeks, we have examined three chronological paintings of Selly Manor. Starting with Sutherland's 1809 'Sally Hill Near Birmingham' , we have traced varying depictions of the manor throughout time, examining how they have adapted according to artistic style and the condition of the building. To bring this series to a close, we have chosen to include a piece of a slightly different nature. As we move towards 1917 and the establishment of Selly Manor Museum, it seems appropriate to switch our focus from art to photography and examine how the manor we have today was established.
Item Four: William Alexander Harvey's photo albums
The fourth item we have chosen to include in this series is a collection of photographs compiled by Bournville's chief architect, William Alexander Harvey. This piece is fascinating, as it offers a unique insight into the dismantlement and move of Selly Manor from the perspective of a central figure involved in the project. Unlike previous pieces in the series, this item was not produced by an artist and, subsequently, offers a truly factual presentation of the building. The photographs allow us to gain a deeper understanding of the dismantlement, movement and reconstruction of Selly Manor, which resulted in the site we have today.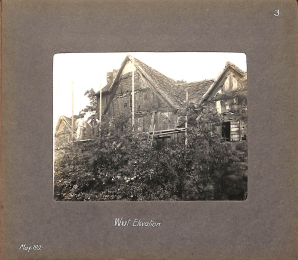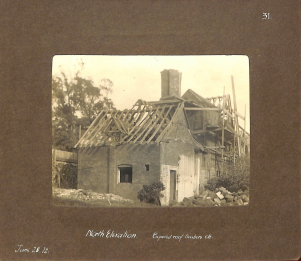 William Alexander Harvey was born in Birmingham in 1874. Despite having trained as an architect at the Birmingham Municipal School of Art, Harvey was relatively inexperienced upon his employment in Bournville. George Cadbury commissioned Harvey in 1895 to aid the design of his new garden village and he quickly took over as lead architect. Believing that 'no man ought to be condemned to live in a place where a rose cannot grow', George Cadbury wanted to produce a haven for people to live, away from the grime of the city. Consequently, Harvey's task was to design houses that were quaint, attractive, and conducive to healthy living conditions. Although he only held the official position of lead architect until 1904, Harvey maintained a heavy influence over the Bournville project until its completion.
As a result, Harvey was paramount in the move and reconstruction of Selly Manor. Having purchased it in 1907, George Cadbury believed that the best way to preserve the manor would be to relocate it to Bournville, one mile away from its original Selly Oak location. Cadbury hoped that doing so would provide the people of Bournville with an excellent educational opportunity and a chance to appreciate the past. As one of the leading Bournville architects, Harvey supervised this transition. He salvaged as much of the original structure as possible and collected all further materials from elsewhere in the Midlands. Reconstruction officially began in 1913 and was eventually completed in 1916. The building was then promptly named 'Selly Manor Museum' and opened in 1917.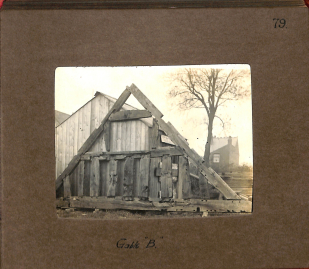 Harvey's photo albums trace these developments in superb detail. Containing images of the manor in both its original and current locations, Harvey's albums follow each stage in the move of the building. Every aspect of the architecture is carefully pictured, including the timbers, the roof, the fireplaces and the staircases. It has been suggested that Harvey's reconstruction of Selly Manor was largely based on past artistic representations, similar to those examined earlier in this series. For example, Harvey's choice to include an exterior staircase appears to have been inspired by previous paintings of the building as opposed to evidence uncovered at the manor's original location. Harvey's photo albums are, subsequently, incredibly valuable, as we are able to gain a deeper insight into his perspective of the manor and choices made during reconstruction.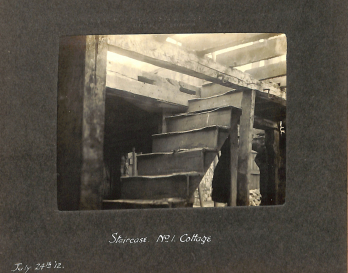 Having grown up in an artistic family, it seems appropriate that Harvey enjoyed photography. A relatively new phenomenon, amateur photography developed as a pastime in the mid-nineteenth century. A number of technological developments at the turn of the century increased the ease with which non-professionals could compile their own photographic collections. These developments allowed Harvey to compile such a comprehensive selection of images of Selly Manor, which we are lucky to have today.
This piece offers an appropriate end to our series. Having tracked the development of the manor from its position as a functional farm house to a crumbling shell in our previous posts, these albums allow us to understand how the site we have today came to be. They are subsequently incredibly valuable and act as fitting end in our series of Selly Manor depictions.
Jennifer Lewis, Museum Assistant 
University of Birmingham