Share
You are here:
News /
Oliver Baker
It is largely thanks to Oliver Baker that we have such a wide ranging and interesting collection at Selly Manor Museum but there is so much more to him than that...
Born in Birmingham in 1856, Oliver was the fourth son of an artistic middle class Birmingham family. His father was Samuel Henry Baker (1824 – 1909), a renowned watercolourist and member of the Royal Academy. After attending the Bridge Trust School, Oliver entered the Birmingham School of Art and studied under his father. His early work focussed on landscapes, in much the same vein as his father, and he exhibited at the Royal Academy himself in the 1880s. Oliver became a member of the Royal Birmingham Society of Artists in 1884.
Oliver wrote several books, the first of which was Ludlow Town and Neighbourhood in 1887. The book focussed on the historical buildings of the town and was accompanied by pen and ink drawings by Baker himself. The book highlights his early interest in medieval and Tudor architecture, and furnishings.
Around 1898, Baker was commissioned to design silver jewellery by William Haseler. Based in Birmingham, Haseler manufactured silver jewellery for Liberty & Co, who launched a modern range of silver products called the Cymric range. The designs, of which Baker contributed many, are credited by some as the foundation of modern jewellery design.
Oliver married Emily Wall and they had one son, Geoffrey in 1908. The following year the family moved from Edgbaston, Birmingham, to Stratford-upon-Avon. They lived at the Dower House, a 16th century building in the heart of Stratford, for twenty years, and then moved to a village just outside Stratford called Bearley. Oliver Baker had a great interest in historic buildings, and a concern for their preservation. He was an active member of the Society for the Protection of Ancient Buildings, for which he was the local correspondent and campaigned to save old buildings.
Near to his house in Stratford, Oliver owned a small antique shop, from which he sold to the public and to collectors that he knew (see image below). He acted as an advisor to the trustees of Shakespeare's Birthplace in 1912, as they furnished Nash's House, and then later sold objects to furnish Mary Arden's House at Wilmcote, during the restoration of the building. Significantly for Selly Manor Museum, Oliver was instrumental in selling furniture and objects to Laurence Cadbury. Laurence from the 1910s to the mid-1930s spent a huge amount of time and energy in furnishing Selly Manor. Laurence had the means and enthusiasm but it was Oliver who had the knowledge and expertise. Today the collection is amongst the most significant of its kind.
Oliver's third brother, Harold Baker, was a gifted photographer. We are fortunate that Harold visited Selly Manor and took some of the earliest recorded photographs in its new Bournville location, in the 1920s. These remain an important archival record and reside in the museum's archive. Baker also went on to publish two further books; Black Jacks and Leather Bottells in 1927, which remains the authoritative work on the subject, and In Shakespeare's Warwickshire in 1937. The latter was partly illustrated with examples from Laurence Cadbury's collection of furniture to help show what life in 16th century Warwickshire may have been like.
Oliver Baker's life as an antiquarian remains sketchy. His sporadic diary entries, which have only recently come to light, mention searching rural areas and enquiring at farmhouses for 'old furniture'. We can only speculate that this is the origin of much of the furniture which eventually made its way into Laurence's collection. Oliver certainly seems to have had both a good eye for fine pieces of furniture, as well as being a trusted colleague and friend to Laurence, a statement confirmed by the fact they did business together for over 25 years. Oliver Baker died in April 1939.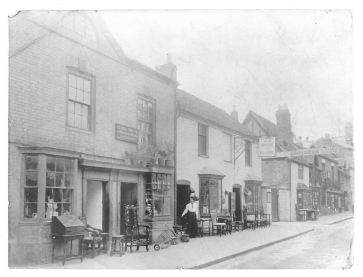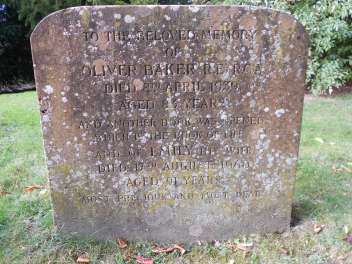 Left: Oliver Baker's antiques shop on Sheep Street in Stratford-upon-Avon.
Right: Olive Baker's headstone in Bearley, just outside of Stratford.