Share
You are here:
News /
New acquisition
Selly Manor in Bournville 1919
John William Guest (1898 – 1976)
Ink on paper
---
For many years Selly Manor has been a focal point for passing artists. The museum's archives has many works of art of this fascinating building, by both accomplished professionals and keen amateurs. Though interesting records of the building and how it changed over the years, very few of these artworks have the character and sense of time that this ink drawing by John William Guest does.
John William Guest, or Willy as he was often known, lived in Bournville all of his life and worked at the Cadbury factory from 1912 for 51 years. When the First World War broke out Willy was just 16 years old, but as soon as he reached 18 he enlisted. Serving with the Royal Warwickshire Regiment, Willy was sent to the Somme and like so many young men was injured several times and caught in a mustard gas attack. He comforted himself by writing home to his future wife Dolly and family members. Willy was also twice Mentioned in Despatches and awarded the Military Medal.
On his de-mobilisation in 1919, Willy returned to Bournville. According to his daughter Daphne he was 'distraught and overwhelmed by what he had witnessed' during his time at the front. It would have been a devastating experience for anyone but especially for young men like Willy. He never spoke to anyone of his experiences but instead turned to art as a form of therapy and solace. During his time in France he had used drawing as a way to reflect on the chaos that was going on around him. Back in Bournville, it was an opportunity for him to pause and spend time in a calm and thoughtful pursuit.
Willy's ink drawing of Selly Manor was undertaken just a couple of years after George Cadbury had rescued and had the building reconstructed in Bournville. The wavy roof lines, and imperfect perspective, capture the characterful nature of this ancient house. The trees appear caught in a strong breeze and they give the scene an energy which contrasts with the neatly clipped yew hedge. The drawing also reflects the artist's meticulous side with every brick, cross-hatched window and leaf given careful attention.
Willy married Dolly in 1924 and from then had lived on Woodlands Park Road in Bournville until the mid-1970s. They had always been admirers of the Estate and George Cadbury's forward thinking. The drawing was recently gifted to Selly Manor Museum by their daughter Daphne. When acquired by the museum, the drawing was torn and with fractured pieces but thanks to paper conservator Louise Vaile it is now fully restored and mounted. The drawing will reside in the museum's archive as a document that captures both this wonderful building and the life of one of Bournville's many important residents.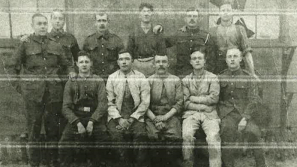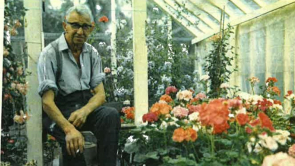 Left: Willy (seated far left) during the World War One
Right: Willy in his greenhouse in Bournville. Growing flowers, alongside drawing, was another of his favourite pastimes.