Share
You are here:
News /
Object of the Month
In around 1920 Laurence Cadbury bought this oak tester bed from W.F. Greenwood and Sons, a well known antiques shop of the time located on Stonegate in York, one of the main thoroughfares in the city. Laurence Cadbury acquired most of the objects for the museum from about 1910 to the mid-1930s. 
Dating to the late 17th century, this type of bed is known as a tester bed. It has a headboard at one end and baluster-turned posts at the other, supporting the eight-panel tester (or roof) above. Originally such testers were made of fabric which was draped from the ceiling. By around 1500 the tester was more commonly a fixed wooden structure. Below the tester, this bed has wrought iron rails from which bed hangings could be hung. The mattress was placed on a lattice of ropes which were strung across the main frame of the bed.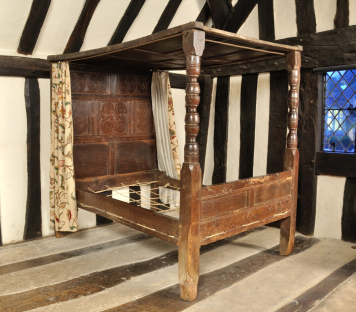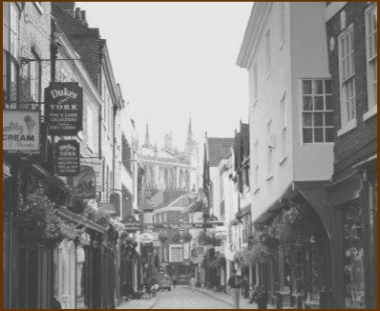 Left: The Yorkshire Bed at Selly Manor Museum. Right: Stonegate in York during the early 20th century, where Laurence Cadbury bought the bed for Selly Manor.
The most striking feature of the bed can be seen on the  panelled headboard. Only the upper panels are decorated, as the lower areas would not normally be seen once pillows and bolsters were in place. The design on the headboard is of stylised scroll patterns. The scrolls are carved into the wood, whilst the surrounding areas are left plain which enhances the design. The deepest carving, around the scrolls, has been hammered with an iron stamp, providing a rough contrast.
These patterns allow us to suggest the origins of the bed. A number of other pieces of furniture from Yorkshire have been identified with identical carvings. The most notable is an armchair found in St Peter's Church, Conisborough near Doncaster, which is thought to have always been there since it was made. Another very similar chair can be found at Burton Constable Hall near Beverley, Yorkshire. This chair has a similar form to that at Conisborough and comparable legs but with less decorative carving on the crest. Looking closely the scrolls on the backrest are reversed when comparing the two chairs.
A number of other examples of furniture with scroll designs have been identified including a box now at Temple Newsam House in Leeds. We do not know whether the design represented something or was simply used for decoration. It is highly likely that all of these objects, including the Selly Manor bed, were made by the same workshop in the mid to late 17th century in Yorkshire, probably South Yorkshire.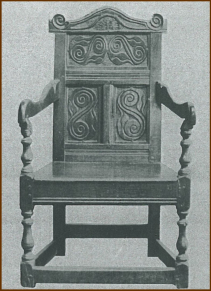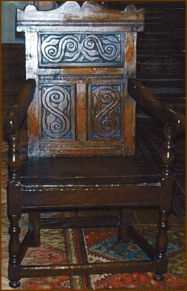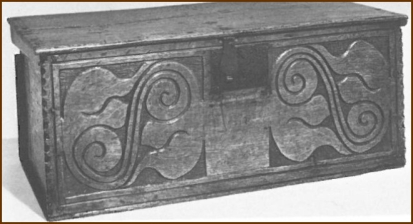 Top left, the Conisborough Chair, and top right the Burton Constable Chair with the Temple Newsam Box above.
All three objects feature carving that is nearly identical to to Selly Manor bed.