Share
You are here:
News /
Mysterious carvings
Back in March 2019 we ran an Object of the Month feature on the Grotesque Chest here at Selly Manor Museum. It is one of the most interestingly decorated objects in the collection. Across the front of the chest are carved designs featuring strange figures and weird mystical beasts. For some time we have been studying similar carvings, most of which can be found in churches in the South-West of England. In particular our studies have focused on the wyvern figure in the decoration - a wyvern is a two-headed dragon.
A good comparison can be found in the Church of the Holy Ghost in Crowcombe, Somerset. Both the Selly Manor chest and Crowcombe church carving has an open-mouthed wyvern who tackles fighting or fleeing figures, who are surrounded by tangled vines. Whilst the subject matter of these scenes seems very similar, the execution of the carving is most definitely by a different craftsmen. It would appear that each of those craftsmen have been inspired the same source.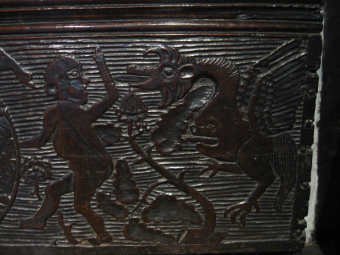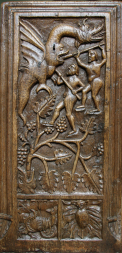 The inspiration behind these carvings has come to light thanks to a researcher Malcolm Jones. Malcolm has spent a long time tracking down the original sources for early carving design and other decorations. It has long been known that some printed materials were readily available in the 16th century and publications such as religious Book of Hours would have been seen by many people. These richly illustrated books featured borders full of imaginative and creative decoration. One such example can be seen below. We have overlaid the illustrations onto the Selly Manor carvings to show you how they may well have influenced the craftsmen who made them. So this intriguing chest was created thanks to the wild imagination of a distant illustrator and the skill of the carpenter who adapted it.