Object of the Month - March 2019

Share
You are here:
News /
Object of the Month - March 2019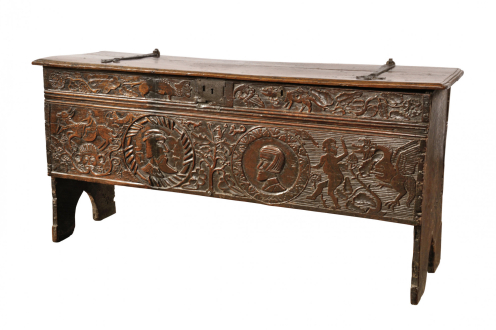 The Grotesque Chest is a late sixteenth century piece of ornate oak furniture which features fascinating scenes of monsters, creatures and human figures. It was bought by Laurence Cadbury in 1912 for £38 in Stratford-on-Avon. Its history is fairly unknown, yet closer examination of the figures reveals some interesting details.
When first examining the chest you will notice the large round carving featuring a bearded man wearing a hat. To the right of this there is another carving with a woman's head wearing a basic coif, or hat. These carvings of 'romayne' style figures are facing each other and may indicate that this chest was made to celebrate a special occasion, such as their marriage.
The chest depicts scenes of remarkable monsters and creatures, sometimes described as 'grotesque'. Although these figures and motifs are common in early carvings, it is unusual to find these depictions covering the whole decoration, and that makes this piece of furniture all the more fascinating.
The bottom left carving on the chest depicts a figure commonly known as the Green Man, a grotesque face with foliage sprouting from his mouth. There is evidence of the Green Man as early as sixth century AD in the form of a foliate head on Roman columns. This old man of the woods is possibly of pagan origins but interestingly appears often in church carvings, especially in the south-west of England.
Some churches in Somerset feature similar scenes with wyverns (two-headed dragons), green men and other grotesques. While the style of carvings differ, the common subjects suggest they derive from the same meaning or possibly from long established folk tales. The meaning of green men is no longer fully understood. However, due to the plant imagery appearing in many depictions such as the sprouting foliage, it is thought to have symbolise nature or fertility. 
To find more about the Grotesque Chest you can visit Selly Manor Museum. We also sell a detailed collections guide book on the Laurence Cadbury Collection at Selly Manor Museum.
With thanks to Selly Manor volunteer Meghan who researched and wrote this article.