Object of the Month - August 2018

Share
You are here:
News /
Object of the Month - August 2018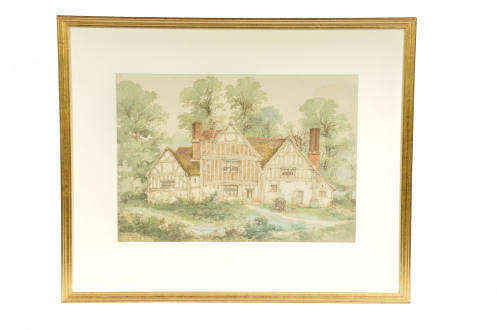 These paintings, sketches and notes of Selly Manor were made by Birmingham amateur artist John Alsop. They provide a unique view of the building at the end of the 19th century and show how this unkempt timber-framed house had become a local landmark.
John Alsop was born in a small house in Colmore Row in 1828 alongside St Philip's Church, now the cathedral, right in the centre of Birmingham. The house he grew up in is long gone – it was demolished then replaced by the recently restored Grand Hotel in 1879.
His father Josiah was a doctor, originally from Derbyshire, but who died during the cholera outbreak of 1832 leaving his young wife Anne and his 3 children behind – including John. Anne worked tirelessly to ensure her children were well educated.
John attended King Edward VI School in New Street, Birmingham and had a great interest in history, and the history of the church in particular. However rather than follow the path to Oxford to study he felt, as the eldest son, the need to support his widowed mother. John was offered a steady job at a bank but he received an inheritance of land in Derbyshire and gradually sold it off. He used the money to start a business which only lasted a few years. There on after, from the age of 35, he worked as an agent for a company called Messrs. Betterley and Company of Valparaiso until his retirement.
Living in Birmingham all his life, John remained a bachelor and lived with his sister Jessie first in George Road and later on the Bristol Road, both in Edgbaston. Towards the end of his life and following the death of Jessie, he withdrew to just one room of the house. He died in 1909 and is buried in nearby Selly Oak.
During his fairly unremarkable life in Birmingham, John maintained a passion for painting. He had spent some time studying at Birmingham School of Art with his brother Frederick, also a talented artist. John was most interested in landscapes, perhaps inspired by his father who was said to have had a collection of paintings depicting mostly rural scenes in the family home. John and Fred often travelled together, and spent holiday in places like Scotland, where they enjoyed the scenery - sketching whenever they could.
In the tradition of Constable, John was interested in recording nature and his surroundings in as honest a way as possible. Between 1853 and 1858 he often contributed his works to exhibitions at the Royal Society of Birmingham Artists, particularly his Scottish scenes. However it was his local sketches and paintings which contribute so much to recording the area in which he had always lived. John painted local views at a time when the rural surroundings of Birmingham were still there, and just before the quickly expanding city took over. He enjoyed summer walks in this fast disappearing countryside and would stop to make sketches and take notes. Birmingham Museum and Art Gallery is home to a number of his works.
It was during one of his local expeditions that John Alsop came across the building we now know as Selly Manor. In the early 1890s he painted two watercolours of the building (that we know of) that now reside in the Selly Manor Museum archive. As was the norm for him, he made detailed studies of the crumbling timber-framed house and its dishevelled landscape. John went one step further by recording further details on the reverse including historical notes about Selly Hill Grange – a sometimes used name for the building. He also sketched the details of the building including its tall curious chimneys and herringbone brickwork.
These pictures offer a rare glimpse into the history of a modest rural building, at a time when few would have considered using the expensive and difficult medium of photography. At the time Selly Manor had been divided into 3 separate dwellings that were used to house agricultural labourers and their families – a total of over 20 people. The house was in a steady decline with little effort or money being spent on its upkeep. Just two decades later it was saved from becoming derelict by George Cadbury who purchased the building and had it dismantled, moved and rebuilt in his nearby garden village of Bournville. John Alsop's paintings remind us of the building's former life.