Bournville Heritage Open Day

Event essentials
| | |
| --- | --- |
| From | 15 September 2018 at 10:00 AM |
| To | 15 September 2018 at 4:00 PM |
| Booking | No Booking Required |
| Cost | Free entry |
| Refreshments | Served |
Share
You are here:
Events /
Bournville Heritage Open Day
This Heritage Open Day, Selly Manor Museum is delighted to be holding an exhibition in our medieval hall celebrating extraordinary women.  The manor will host living history experts Gloriana as they bring the past to life with music and costume.
Selly Manor is open as part of Bournville Heritage Open Day which sees 11 venues across George Cadbury's historic garden village open for FREE.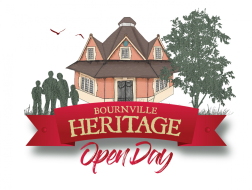 A map for Bournville Heritage Open Day is available with full details.
On Saturday 15th September 2018 the following Bournville heritage sites will be open:
Selly Manor Museum (Maple Road, B30 2AE)
A beautiful Tudor manor and medieval hall saved by George Cadbury, and surrounded by a cottage garden. Featuring re-enactors Gloriana who will bring the Museum to life with costume and music.
The Rest House (Village Green, B30 1AA)
This distinctive building is home to the Carillon Visitor Centre, built in 1914 to mark the silver wedding anniversary of George and Elizabeth Cadbury. There will also be the opportunity to visit the nearby George Cadbury Carillon School which was opened by Sir Adrian Cadbury in 2007.
Bournville Junior School (Linden Road, B30 1JY)
Opened in 1906, visit the central hall, decorated with frescoes depicting biblical scenes, and view an exhibition of the school's archives. This site will close at 3pm.
The Carillon (Linden Road, B30 1JY)
The Carillon is made up of 48 bells played serially to produce a melody which can be heard across Bournville. Pre-booked tours to climb the tower and see the instrument and magnificent view of the village take place throughout the day. To join a pre-booked tour of the Carillon, please contact Selly Manor Museum on 0121 472 0199 or email [email protected]
Quaker Meeting House (65 Linden Road, B30 1JT)
Built in 1905 this unusual Y-shaped building was designed by architect W.A. Harvey, and will feature an exhibition of old photos of the Meeting House. Quakers will be present to answer questions on Quaker testimonies.
St Francis C of E Church (Sycamore Road, B30 2AA)
Consecrated in 1925, the Church was designed on the early Christian basilica style. There will be a display of archive pictures and an exhibition of work by local artists.
The Bournville Experience (at Cadbury World, Linden Road, B30 1JR)
A visitor centre on the Cadbury World site telling the history of Bournville and the Quaker ethics of the Cadbury family through videos, displays, plus a model of the factory site and village. There is also the Sweet Delights shop which exhibits Cadbury chocolates past and present.
The Church of the Holy Prince Lazar (92 Griffins Brook Lane, B30 1QG)
A beautiful Serbian Orthodox Church decorated with spectacular frescoes and containing many important relics. There will an exhibition in the church hall displaying medieval frescoes from monasteries in Serbia. There is no wheelchair access to the church, but there is access to the hall.
Approximately 25 min walk from Bournville Village Green
Fircroft College of Adult Education (1018 Bristol Road, B29 6LH)
Six acres of gardens to explore and a chance to see some of the rooms in George Cadbury Junior's former home, with a plant and cake sale.
Approximately 20 min walk from Bournville Village Green
Woodbrooke (1046 Bristol Road, B29 6LJ)
A chance to discover the garden and grounds of one of George Cadbury's houses. Enjoy the labyrinth, herbaceous borders, lake, walled garden and play garden games.
Approximately 20 min walk from Bournville Village Green
The Quadrangle – Bournville Almshouses (Mary Vale Road, B30 2DJ)
Built in 1898 by architect Ewan Harper for Richard Cadbury, the Quadrangle contains 33 bungalows. This is a rare opportunity to visit the Almshouses as part of a pre-booked tour.
Approximately 15 min walk from Bournville Village Green. To join a pre-booked tour of the Almshouses, please contact Selly Manor Museum on 0121 472 0199 or email [email protected]
Pre-booking is essential for tours of the Bournville Carillon and Bournville Almshouses. 
To book and for more information about the event please contact Selly Manor Museum:
t. 0121 472 0199
e. [email protected]